Whether you spend a good part of your computing time downloading torrents or just like to enjoy the occasional file you can't get anywhere else, you're gonna love to know that you can now engage in it right on your jailbroken iPod Touch.
What You Need
Apart from having your unit jailbroken, you'll need to get the Cydia Installer on your iPod Touch. Cydia is basically an alternative to the Installer.app on your handset. We'll probably do a more thorough feature on both installing and using Cydia if enough people need a primer on it.
Once you have Cydia in place, you'll need to use it to download dTunes (which brings the Safari download plug-ins along with it) and Mobile Terminal.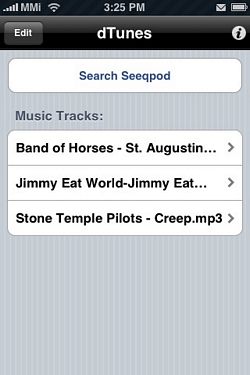 Steps

1. Download files from Piratebay

Use Safari to surf Piratebay.org and download (yes, you can download now if the plug-ins installed correctly) the torrent files you want.

2. Run dTunes

Once downloading via Safari is done, open dTunes and click on the torrent file to get it running.

3. Start Downloading

Open Mobile Terminal and type command "./gettorrent", minus the quotes to start the download. Speed is normally pretty good, depending of course, on your internet connection and the number of seeds.

4. Retrieve The Downloads

Once finished, the downloaded files will be in the root/var/mobile/Library/Downloads directory of your iPod Touch. You can do with them as you want.

About the Author: