If you've ever wondered how some people got to install the Japanese emoticon set on their iPod Touch devices when you can't seem to find it anywhere, you can stop wondering now.  You'll need a jailbroken iPod Touch and the popular Cydia Installer to do it, so get that together first.  Once installed, you can use the emoticon set (the Emoji patch from iSpazio, in this case) for your emails, notes and other apps that support text input.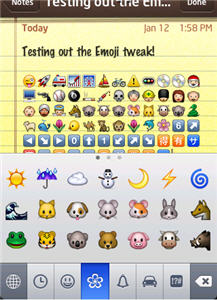 First, launch the Cydia Installer and select the Sections tab at the bottom of your screen.  Choose Tweaks from the list displayed and find Emoji among the available packages.  Select Emoji and click on the Install button to begin downloading and installing it.  Once completed, restart the Springboard and begin the process of enabling the emoticon set for use in your device.
Once Springboard relaunches, go to Home and click on the Settings icon.  Select the following sequence: General -> Keyboard -> International Keyboard -> Japanese.  You should see the Emoji switch set to OFF.  Turn it ON and return Home.  You can now open your apps and find the Emoji character set available for your use.