Where in the world could this be? You will ask yourself this question very often while playing placeSpotting app for iPod Touch and iPhone.
The iPhone version offers you the same addictive gaming mode as the web version. The quiz is a photo of a location or structure and exact this structure you have to spot on a world map. To help you find the answers, the quizzes come with 2-4 hints.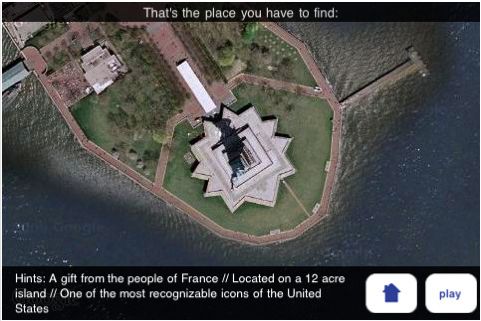 Finding the Sydney opera or the White House in Washington is pretty easy but there are 20'000 quizzes waiting for you, and believe me, some of them are really hard.
The special advantage of the iPhone version is the possibility to use your actual position to create a new quiz. This quiz can be sent directly to friends by the iPhone email app.
The reason why this PlaceSpotting iPhone app is special:
It is a very simple but addictive iPhone game. The number of quizzes created in the web version proofs its success. A free version with limited functions is also available.
If you think you know the world, now you can proof it!
Get it here for the Paid Version, and Download this PlaceSpotting game for your iPhone or iPod Touch here for Free Version.