Five Steps to Copy Movies from a DVD to your iPhone – Applerepo.Com,  Numerous techniques are available for you to save your favorite movies into your iPhone device. Two frequently used are the downloading movies from the Internet, and copying of movies from a DVD source to your iPhone. Both of these stated procedures would and may require you to do a transfer of the movie files to a computer, and prepare them for the final transmission to the iPhone gadget. In most downloading cases, movie files are already converted to an appropriate format compatible with your iPhone. But when you copy movies from a DVD, you have to do some file conversion using a computer, prior to saving it to your iPhone device.
Steps to Copy DVD Movies to iPhone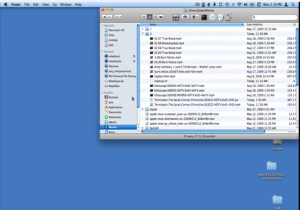 Here is one of the alternative methods preferred by many iPhone users when copying movies from a DVD to their iPhones.
Step 1: Convert the file to MP4 format.
This has to be done first, because the usual DVD files are not compatible with the iPhone file types. Hence, files should then be converted into an MP4 file format for them to work with your iPhone device. In order to for you to do so, save the DVD files to a computer with an MP4 file format.
Step 2: Secure a computer for transfer.
Aside from saving and file format conversion, a computer is very essential to accomplish the actual transfer of data from the DVD medium to the iPhone device. The computer then serves as a mediator between the two, which enables them to interact with each other during the process of data exchange. You then need to connect your iPhone to the PC using a connecting lead.
Step 3: Utilize some ripping software.
After securing the connection between the iPhone and the PC, use ripping software to shred the movies from the DVD source. Afterward, save it to the hard drive. Majority of the ripping software are capable of doing both the file conversion and saving process, though.
Step 4: Begin the copying process.
After all the files are saved in the hard drive in a correct file type (MP4 format), you can now begin the copying process. This is where the complete data transmission is done.
Step 5: Sync iPhone with iTunes.
Once the copying is finished, scan the files into iTunes for them to be transferred over automatically. This should happen when you sync your iPhone with iTunes.
Copies Movies to iPhone Videos
As simple as that! You then can begin movie viewing using your very own iPhone device. If you wish to do it in other ways, you too can. As what was mentioned earlier, a lot of options are available for you to save movies in to your iPhone. Aside from copying DVD movies to iphone , you can also make use of the popular source – the Internet. A number of sites are offering movie downloads that would best suit your iPhone gadget. However, if you opt for this alternative, be sure to consider some possible virus and malware threats to your pc. Downloadable files like movies usually contain some hidden viruses embedded within the file. For safety purposes, be sure to activate and update your anti-virus software or run a complete virus scan on your PC to be sure the file you download is clean and safe.

About the Author: