Music makes the people come together. Have you recognized that line from a song? It's from Madonna. I totally agree with her because music unites all people from different races. It also makes the world beautiful. Can you imagine what the world looks like if there is no music at all? I'd rather not imagine at all.
Since we are talking about music here, allow me to give you tips on how to transfer music files from iPod to your computer. The steps are so easy and it won't drain your brain, except if you found errors.
Before anything else, have the important materials and applications ready. You need to have:
iPod (whatever generation it is)
computer/laptop
IPod USB cable/connector (I recommend you using the original connector to avoid unwanted effects)
iTunes (the latest version)
Make sure that your computer is installed with the latest driver of iPod because if not, you will definitely have problem transferring files.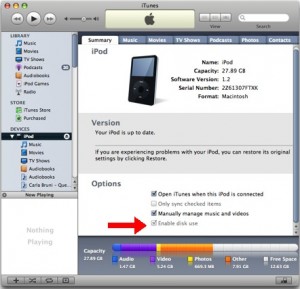 You need to make it sure that you activate or enable the Disk Use in your iPod. You can enable the Disk Use using iTunes. Follow the following steps in doing so.
Connect your iPod.
You need to open iTunes as well. Let the application open the device as soon as you connect it.
Click Continue right after iTunes recognizes the iPod then hit the Summary tab.
You need to check the option "Manually manage music and videos" from the selection.
To save the modification you need to click Ok and Apply buttons.
By default, the iPod music folder is hidden and for you to view it, you need to show hidden files.  To view hidden files, you may follow the steps below. The following steps are for PC users having Windows Operating System.
Click the iPod drive at My Computer.
In the interface, look into the menu and select Tools.
Under the Tools menu, click Folder Options.
You will see four tabs in the Folder Options interface. You need to select View.
In the View tab, look into the label stating "Hidden files and folders." There will be two radio buttons in it.
You need to enable the radio button that will tell you to show hidden files and folders.
After enabling it, you need to click the OK button.
Since you have instructed your operating system to view hidden files, you may now see the music files stored in your iPod. The name of the folder where your music files are located is iPod_Control.

Under the iPod_Control folder, head to the Music folder.

You will see a lot of folders out there, usually named F00, F01, F02, and so on and so forth.

Each folder contains the music files stored in your iPod. I assume that you already know how to copy and paste files, right? Copy the music files you wanted to transfer in your computer. You can use Ctrl + A to select them all. Copy the selected files using Ctrl + C and paste them at the directory you want.

Remember, you can also apply that process if you wanted to copy music files from your computer to your iPod. You may also use iTunes in doing so.

About the Author: