5 Questions We Have About the New Iphone X, Iphone 8 and iPhone 8s – AppleRepo.com, Three new iPhone models instead of one? Goodbye to the home button? Will the next Iphone record selling?
Check these out…
1. What about Iphone X?
Ever since 2009, Apple has used the habit of releasing "S" models – an updated variant of the previous year's Iphone phone.
Now, much suggests that Apple will mark the tenth anniversary of its entry into the mobile industry with a special Iphone X model. X represents the number 10 in the Roman numeral system.
"Iphone X" is expected to be the biggest update of the Iphone series since 2007, and will be Apple's cutting edge in mobile technology, according to analysts.
Among the news that "Iphone X" brings along include wireless charging, a whole new type of oled screen that covers almost the entire front and supports film in 4K with 60 frames in seconds. Several of these features are already in the competitors' models, should be said.
2. Three new Iphones?
Leaked data suggests that. The information about three models – Iphone X, Iphone 8 and Iphone 8 Plus – originally comes from a so-called golden master version of the Ios 11 operating system. The Golden Master is a complete version of the software that is sent to the duplication factories.
Why should Apple give out three models? One possible reason may be increased production costs. To increase the margins, Apple is therefore expected to put a record high price on Iphone X. Iphone 8 and Iphone 8 Plus can then be a way for Apple to sell new models at a price similar to that of Iphone 7.
3. Will the home button be left?
It is unclear. The round home button has been coming up with years since 2007. Now it's said that Apple is about to replace home button on iphone X. The Touch ID fingerprint sensor would then be replaced by a 3D camera that scans the face when you unlock the phone. The new Face Recognition technology can also be used to sign in to apps, as well as to verify Apple Pay purchases, according to rumors.
4. Could component failure delay the phones?
Basically, every Iphone launch has been surrounded by the delayed move. If Iphone X gets a whole new design with oled- instead of LCD monitors, it can bring big technical challenges to the factories. According to analyst Ming-Chi Kuo, the production rate of Iphone X devices will be "very low" – fewer than 10,000 units are manufactured per day. This may mean that those who want to buy the luxury model "X" need to be prepared to wait.
5. Will Apple's new iPhone X break the fastest-selling smartphone record?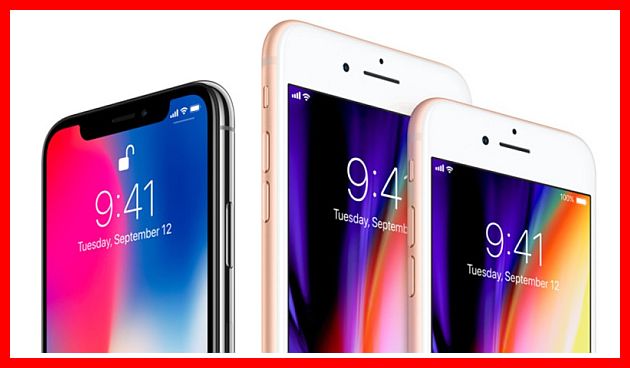 Apple's phones are not directly known for being cheap. But with Iphone X, Apple can trick up the price really. According to sources of the Fast Company site, the new top model can cost up to $ 1,000.

But considering last year's Iphone 7 Plus still in the price level, new Iphone X will probably be sold at a significantly higher cost. A more likely price tag would be $ 10,000, according to analysts. It is also in line with what Samsung's new top model costs.

About the Author: