HOW TO PRINT FROM Ipad And Iphone Without The Use Of Airprint written was by AppleRepo.com – Accessibility is what we aim for every device that we have, a device that will give us more functions with less add -ons and plug ins. This factor may help you save from buying ny other devices just to have the function you need at the moment. Just like when you have an iPhone or an iPad and wishes to print images from a holiday vacation or from an exciting weekend trip, but the problem is, you do not have the so called Air Print enabled kind of printer that is suitable for your device. Worry not, for you have now the application that help your ipad and iphone to print images without the use of the Airprint.
Read: How to Set Up Airprint on iPhone
This is how you do print from iPad or iPhone without Airprint
Whether you own an iPad or an iPhone, you may do the same procedures as follows. First thing for you to do is to tap the share button to give you the options of sharing the contents form you device , and for you to be able to do the printing, you have to tap the print from the menu as shown below your screen. After which, your device will let you choose what kind of printer tool you like to use, this is unless you do not have the Airprinter, for you will not find any printing options once you have that on your device. Then, now, you may tap the select printer command .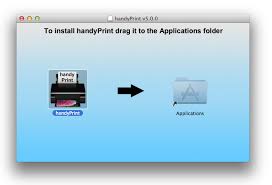 Here's a tip, if you want your non airprint printer button to appear, there is a downloadable donation ware only for $5, this is called the Airprint Activator or is the HandyPrint , this will give you a free service for 14 days. You have to download this to your PC that is currently attached to the printer, then let you PC be the bridge of these two devices to perform the operation. Download this handyprint application and make this run just by a double click, then press the slider to turn the airprint on. This will appear to the menu of your device.

From then on, you will be able to print images from your iPad and iPhone without the need of using the Airprint enabled printer itself. This is such a helpful application to make the task done easily with just a little amount of money spent than buying the printing device itself. This process have good reviews that it made all the printing job well done. There is also the so called easy photoprint app offered free by Canon that is enabling Apple devices to have the images printed directly without the use of the computer as the bridge. You may use any other applications offered by different companies for you to have the printing task done without spending any amount of money. Truly, these are so useful kind of ways to have your best photos printed in no time. Try these out now, and enjoy!

About the Author: