You could print and make PDF documents for your iPad using these great 2 Pdf printer app from itunes apps store:
PDF Printer App
Print to PDF app was a very helpful app. It made making PDFs really easy and printing them really smooth and fast. The app is perfect especially at work, or if you're self-employed because it meets all your PDF needs.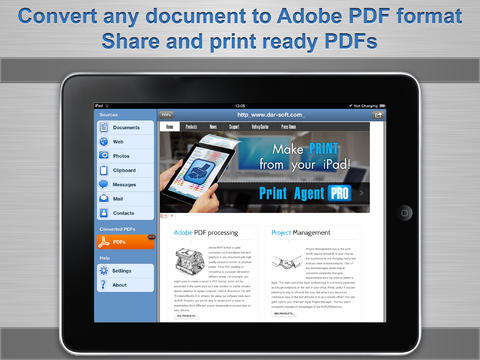 Save to PDF and share:
• Pages, Numbers and Keynote documents
• Word, Excel and PowerPoint files
• Photos
• Pictures and Texts from Clipboard
• Emails and attachments
• Text Messages
• Contacts
• Web-pages

With PDF Printer you can:
• Transfer documents from desktop computers
• Open documents from Mail and Safari
• Download documents or pictures from your Dropbox account for converting
• Upload ready PDF documents to your Dropbox account
• Print documents via AirPrint

Converted PDF files could be opened in iBooks for best reading experience. Also, you can send PDFs by e-mail, open in other apps and even transfer to computer over USB using iTunes File Sharing.
Buy this pdf printer app for ipad here.
There are a couple of options — other apps that have closely the same features as PDF printer App.
Read: Setting Up Airprint on iPhone
Save2PDF App
One of the closest is Save2PDF ipad app. Like the Print to PDF app, it makes and prints PDFs. It's also very easy to use. One of its best features is that it makes PDFS from any type of file, and it can create one PDF from different types of files combined. These PDFs are all seamless and very professional looking. What else could you ask for?
Read: How to Save As Pdf on iPhone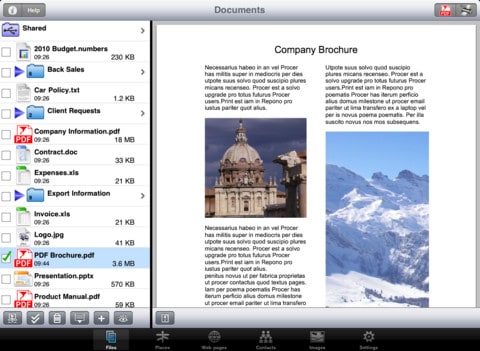 Hmm, thinking about it, there are a couple of things that you could ask for from Save2PDF app. One of the main issues (if not the only issue), we have with this ipad print app is that it has an internal browser. What's wrong with that?
Read: Polaroid Printers for iPhone
Well, it's not automatic that we're going to use the browser that the Save2PDF came with. Of course, we're still going to use Safari for all our iOS internet browsing needs. The thing is, if you find a page that you want to print to pdf, you can't make it automatically on Safari. You have to close it and open Save2PDF's browser and turn the page into a pdf from there.
Buy this Save2PDF App for your iPad from itunes apps store here.
Print With Online Free PDF editor
Printing and creating PDF documents from your iPad can be a breeze if you know the right tricks. First off, let's talk about making PDFs. It's as simple as pie! Just open the file or webpage you want to save, tap the Share button, and select "Save to PDF." You can even edit text if needed before saving. But what if you want to tweak an existing PDF? No worries, my friend! There are tons of online free PDF editors out there. Just upload your PDF, and you can edit text, add annotations, and even merge or split pages.

Now, for printing, you can either connect your iPad directly to a compatible printer or use AirPrint if your printer supports it. If not, don't fret! You can install printer apps that'll bridge the gap. Just ensure your iPad and the printer are on the same Wi-Fi network. Once connected, hit the Share button, choose Print, and voilà! You can select your printer and make those copies.

So, there you have it—printing and making PDFs like a pro on your iPad. With these tips and a sprinkle of tech-savviness, you'll have those documents in your hands or neatly saved in PDF format in no time. Happy document handling!

About the Author: