Here is a list of the 5 best free iphone applications that I think no one should miss out:
Associated Press Mobile News Network iPhone App: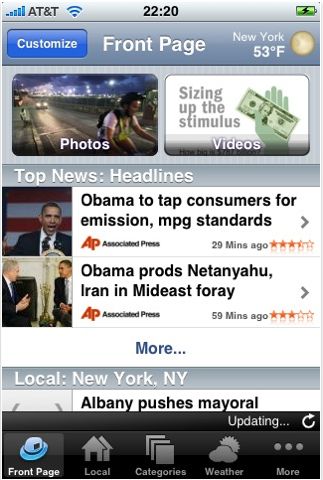 If you tend to regularly follow the news, then you might be familiar with the fact that Associated Press is the source of a very large part of the major news everyday. So why would you pay to subscribe to all the different newspapers they send out their content to when you can get all the information straight from the source for free. With the AP Mobile News Network application you are instantly provided with the most recent news in local and national, as well as international areas; including sports and entertainment. You can customize the kinds of content and topics you would like to hear about, you can save the stories you are particularly interested in, and even forward these stories to your friends and family using text messages or email.
Ifbyphone Conference Call iPhone App: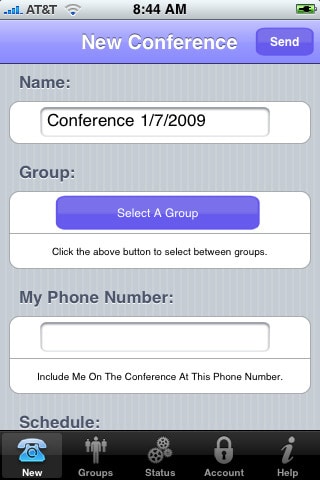 The second iPhone application from the guys at Ifbyphone, simply does what you would expect from it to do – gives you the option to make conference calls with your iPhone or iPod Touch. Using the service of this application, users can have 100 minutes of conference calls for free every month, with the option to purchase extra time if needed. The main aim of the designers of this application was to make it much less of a hassle for people who spend much time traveling to take part in conference calls, thus it doesn't need much setting up or technical knowledge to use it.
Fring App for iPhone: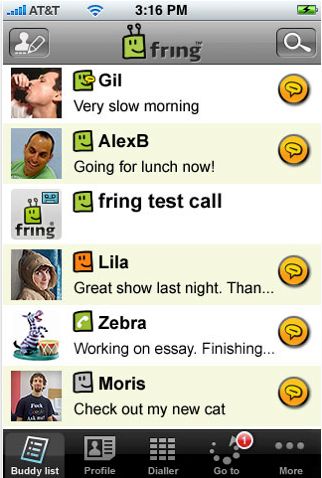 Out of the huge number of Top Rated iPhone apps related to mobile VoIP, Fring is easily the best one in terms of features beyond making calling costs and minutes cheaper. Among other things Fring lets you import your whole list of contacts from MSN Messenger, GoogleTalk, Yahoo, ICQ, AIM, almost any of the most popular instant messaging services. So basically you can call people for free who will be able to receive your calls even if they are not using Fring (and that applies to your instant messages as well). Furthermore, it works even if they are using Skype.
Google Earth App for iPhone: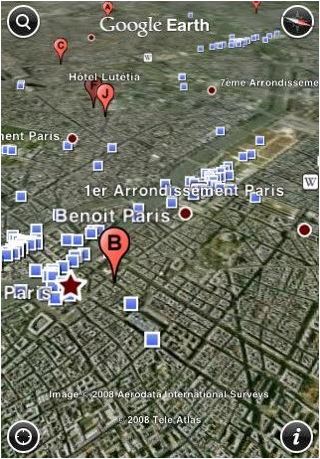 There are very few people out there who still haven't heard of Google Earth, particularly among the iPhone users. And due to the outstanding popularity that is common between Google and the "i" devices of Apple, (iPod, iPhone, etc) it was quite an obvious step that both companies have started supporting the most popular products and features of the other. As one of the results, you now have access to the same mapping and satellite imaging software on the go using your iPhone.
Google Mobile (updated):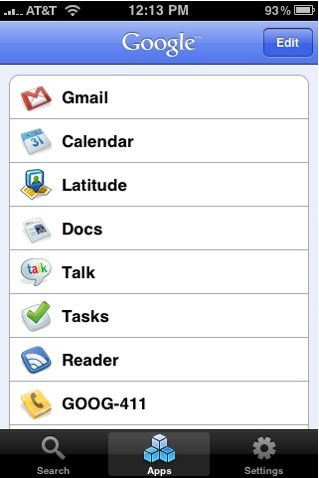 And that's only the beginning of the new free services Google is making available on the iPhone. Now, thanks to the most recent update of Google Mobile, users do not have to use the often uncomfortable onscreen keyboard for typing anymore. With voice-recognition technology being integrated, you now have the option to speak your search queries into the microphone of the iPhone and you will be shown the same thorough list of results you'd expect from Google.

As you can see, you don't necessarily have to pay money to make your iPhone more powerful and versatile. There is a humongous list of features and services on the iPhone App Store to choose from for completely free.

About the Author: