It really annoying when you try to download iOS apps for your iphone or ipad and you got a jam that delays the installation process. Having a bad day just because of your ipad device that is stuck or freezing in a point of time where you are about to install to your mobile device the apps that you needed for work or even for personal work? There may be factors at the back of your device's processing method that is responsible for it to stuck up. Don't worry much for there are also corresponding solutions to this kind of Iphone Stuck On Waiting While Downloading Apps problem. Given below are some of the steps you might want to try if you want to interrupt the freezing and the stuck up of your device while the changes are about to be applied.
Here's How to Fix Apps Stuck on Waiting on iPhone and iPad
First option would be for you to fix this ipad or Iphone Stuck On Waiting While Downloading Apps is to disconnect your iDevice, all you have to do is for you to sign out your apple ID account that is in iTunes store, then kindly close the iTunes. Go reconnect your iDevice without the need first of turning on your iTunes. After which, open the support.apple.com then follow the instructions given in there for whatever device you own. After doing so, Select the libraries where you wish to sync, after clicking the sync button and notice that it remained stuck on the waiting for changes to be applied, just click the little x icon and the content you wish to download will automatically be copied on any of your iDevice.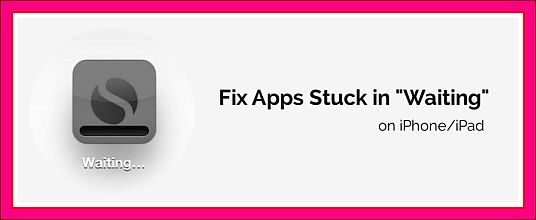 Another troubleshooting process that you may apply to fix apps stuck on waiting on iphone and ipad is the following given steps. You may try this in any device whether you have the iPhone or the iPad. First thing will be for you to go to the Settings section, next, tap the general, next is for you to reset, choose the reset all settings button. Then have the device power cycled or have it restarted through turning the device off and on after a few seconds. This is only for the purpose of reset the device settings into a default mode, do not worry for you will not lose and media. Have it with any other device if this works and if not, start again with the settings section, proceed to general, to reset, and you choose the reset network setting button, then have your device restarted again. After you turned the device on, try to download any apps and see it for yourself if it's working with your device and check it this step could help to Fix Apps Stuck on "Waiting" [iPhone/iPad].

It is really a waste of time and effort if you encounter this kind of Downloading apps stuck on waiting technical problems on your ipad or iphone device, since you are provided with the solutions either online or with the assistance of a tech support agent. Just like with the other users, you may take initiative in trying things that will work out for you. Discover any possible ways to have your device function properly, this is as long as you know what you are doing, that will not harm you and your device.

About the Author: