Didn't you just love playing Hangman when you were a kid? Really, how many of us spent countless hours on bus trips to summer camp or just in class, playing the classic game of trying to guess a word, all the while trying not to get hung? But just because you may be a little bit older now (or at least, addicted to so many more technologically-advanced games), doesn't mean that you have to do away with the idea of ever playing Hangman again. And now, you don't even need a piece of paper to do it! All you need is your favorite smartphone because now, Hangman for the iPhone is here!
Hangman app for the iPhone works just the way it does when you use a scrap of paper to play it with a friend. But, paper's not the only thing you no longer need – you don't even need to con a friend into playing it with you! The Hangman app will supply all the words, along with some super cool graphics that include spooky bats flying around the guillotine. Plus, you'll find no stick figures here. The man that's hung comes fully dressed in shorts and a t-shirt and his arms and legs are actually drawn like they're real legs. He's even holding an iPhone in one hand! But of course, all of these images are preloaded so you don't have to worry about these cool gizmos slowing down your iPhone.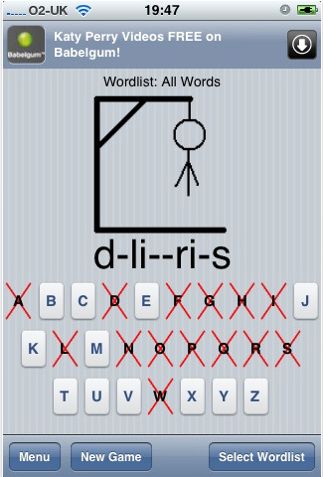 Test your word skills as you try to beat your own iPhone. And remember, because the world has evolved since we all played Hangman iphone game in public school, this version of Hangman includes new words such as YouTube and QuickTime. But be careful. You only have eight guesses before you're completely hung! And of course, because everyone should be able to see just how cool this game is, Hangman for the iPhone is completely free!