GeoWiz iPhone App
Today I have got a chance to have a walk-through of the iphone app called, GeoWiz. I was informed that this Geowiz iphone app helps kids to learn and master over geography skills and it donates half the price of the app cost to the educational charities. As it was interesting to hear from the developers. I am using this and provide a walk-through about the app.
The Geowiz app for iphone looks fairly simple and intuitive, but when you go into the depth, you are surprised to know that the iphone app contains a heck lot of features. I will now give you a comprehensive walk-through of the iphone app.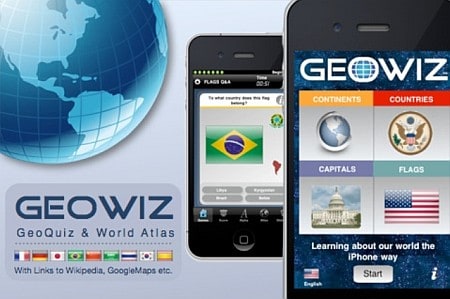 You can start by playing all the levels of the GeoWiz game or you can go through the lessons of geographic informations like continents, countries, states and flags. I would suggest to go through the lessons before playing the game. I took the challenge and went directly playing the game. Kudos, I got some decent scores.
I would like to emphasis a point on making the donations/half the price of the Geowiz iphone app cost to the educational charities. You can do this through by selecting the Geowiz icon in the top right corner of the app. After clicking the icon, you are prompted to select the school you wish to contribute. Select once and you are done with it.
There is always a room for improvement. I had some bugs while playing the continents game and while choosing the capitals in the Countries game. If this Geowiz iphone app is specifically made for kids to learn, the app interface could have been even simpler.
This Geowiz app can be perfect to the parents who are willing to teach their kids geography or make them master over the geography skills. As mentioned by the developer, your kids will no longer be worried or get bored by geography.
How to get Geowiz iphone App?
Download GeoWiz iphone app in itunes apps store here.

App Cost: $19.99

About the Author: