TrueHDR, One of the Best Camera Apps for iPhone
Some moments you just need to capture; you might not be able to take your Digital SLR or your boat load of equipment onto the scene, but you don't want to miss it. Even though the iPhone's picture taking is great, it can be improved. How? A $1.99 application that takes your phone's camera and transforms it into a merging machine.
TrueHDR is a fairly new way to simply take better pictures on your iPhone 3GS. Though it may not change your phone into an instant Digital SLR camera, it can greatly increase the quality of the photo. Original iPhone photos only take one shot and it gives you the result; however, TrueHDR takes photos at two exposures, aligns them, and merges them together. What does this make? Vivid, bright photos with details in both bright, and dark areas. It makes it possible to take photos in dark rooms, or days when the sun is at its brightest.
You can't take only my word for it though, right? This TrueHDR camera app for iphone was featured on huge numbers of popular blogs, took a spot in the top paid applications in the application store, and is rated at an amazing three and a half stars. Taking your original iPhone photos and making them "TrueHDR" is a steal at $1.99.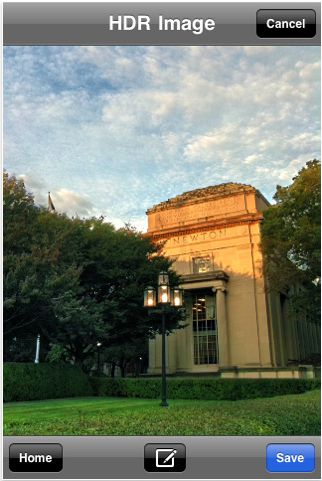 However, you can't control your hand. Naturally, everyone's hand moves a tidbit when you are taking photos. The TrueHDR iPhone app takes two photos, aligns them, and merges them together. Even though the aligning part can fix slight movements in your hand, the system is not always entirely accurate; you could end up with misaligned objects, or blurry edges on your photos.
Everyone can't bring their high tech camera everywhere to take the crisp, vibrant photos that they want. Everyone can't use their simple phone camera to take those photos. That's where TrueHDR camera app for ipod touch / iphone comes in; with a price at $1.99, frequent updates, and features that blow competitors out of the water, it's a steal at its price. Buy this Best Camera App for iPhone here.