Apple iPad; The Future of Voting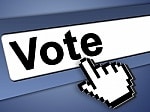 At first it may seem a bit odd but it seems that the iPad may very well become a major player in the election process in the coming years thanks to a new project being worked on. The project began this week in Oregon as a way to help voters that need assistance voting and the process worked so well many experts say it may catch on.
Using an iPad with a simple interface voters are able to quickly and easily choose who they wish to vote for. Everything needed to vote is run on the iPad itself and then the results are transmitted back to the central voting system via a print out, which will be counted and scored just as any other ballot. Using an iPad for voting is an ingenious idea that may just become the future of voting thanks to the iPad's intuitive interface system.