2Do – Prettiest iPhone Task Manager in App Store
I'm sure everyone has been there. Those times where you forget what you needed to do, or you never got to what you wanted to do? Notecards, notepads, sticky notes just won't do it anymore; coined as "State-of-the-act," 2Do iPhone app is a fresh, new way to sort your to-dos.
Beautiful interfaces create efficient interfaces. Although this 2D0 Task manager for iPhone has a similar design to your default Notes application, it offers much more than that; it offers colorful, and intuitive buttons that help you scan your long lists without having to manually read each one. No one likes to spend 3 minutes just to find what they needed to do today; with the new 1.1 update, it comes with tabbed browsing of your to-dos which help you get through what you need to do in a snap.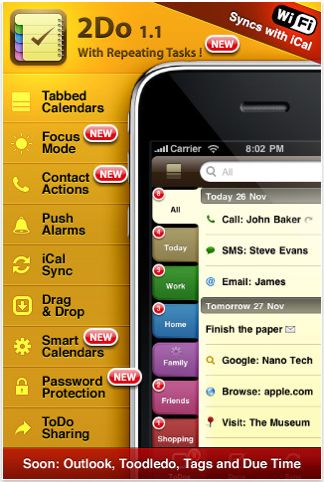 Sometimes, you don't need your iPhone. You may be just at your computer all day, and take your iPhone on the go; 2Do has no purpose at that point, right? Nope. 2Do app for iphone and ipod touch successfully syncs with iCal on your Macintosh, with support for Outlook 2003/2007 coming soon. Say you just finished mowing the lawn and wanting to check what to do next. Stop! You don't have to take your iPhone out of the dock to check with your 2Dos. They are all stored on your computer and ready to view.
You should always know what you are buying. Many applications on the iphone app store you have to trust the reviews, trust the screenshots, and trust the description. However, 2Do offers a "lite" and "pay" version. At a price of $5.99, you should know what you are buying. Not many applications offer this, so take advantage of it, and see what it's like before you buy it!
With a beautiful, and intuitive interface, along with syncing and a lite version, 2Do is an iPhone application that should never be overlooked; you could get the lite version for free, or take the great price of $5.99 that will always stay on your application list. Check it Out Here!