Best Cydia Apps for iPad
It's no secret that Cydia serves as the best underground (well, it sure doesn't seem underground given its popularity) provider of iOS device applications for the iPad, iPhone, and iPod Touch alike.  What makes it so special? Well, in case you're new to the modern Apple-crazed community, Cydia is an application revenue that offers applications, features, and system extensions to your device that aren't supported, endorsed, or offered by Apple themselves. In other words, it's all the cool junk your Apple App Store doesn't have, or doesn't want you to have. Cydia ia a software app that you use to get other applications, in a nutshell, and it offers things for jailbroken iPads only- if you aren't sure what that means, it's best to step back a little and take measures from there if you with to utilize the thousands of applications available on the software. It is best to keep in mind that apps from Cydia serve all purposes and audiences of all demographics- there is no specific range or types of services offered through the jailbroken applications, but for both functional and recreational use. Since different iOS users harbor different interests and priorities when it comes to what will best suit their device, it is only fair to take a look at the most highly renowned applications from Cydia that satisfy a wide spectrum of both "serious" applications and those meant to give the typical Apple user a bit of fun.
Some of Best iPad Cydia Apps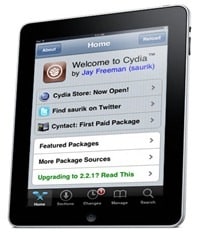 As a common and highly useful attribution to the iPad users who wish to obtain practicality out of their iOS experience, Cycorder is amongst the top cydia application recorders used amongst jailbroken device buffs. Offered exclusively by Cydia, it features a high-quality application to record and share movies, which are shelled out in the convenient .mov format once complete. It has grown into popularity that has it on Cydia's front page of Featured Packages on a constant basis, as a downloadable app that catches 7-15 frames per second as well as audio. It is also renowned for it's easiness in functioning- meaning you don't have to necessarily be a 20-year-old majoring in Media Arts in order to understand to use it (it suits all!). Meanwhile, the useful MxTube serves as an efficient, clean Youtube player amongst the best Cydia apps for ipad, iphone or ipod touch – it is an application for iOS users and offers the download and saving of favorite videos. Smart phone users can rejoice upon discovering Cydia's iBlackList– it serves as what is widely considered the best call-blocking application out there. It protects users from unwanted calls and texts according to who they choose to specify in their contacts, the only application to do so with such a high approval rating and efficiency.
Taking a break from the gamer's end of what they can receive out of Cydia's endless application offerings, for $1.99 a download the game Angry Birds is taking over the world by storm!  This game is very popular in itunes apps store and considered to be one of the best Cydia apps for ipad, The Angry Birds game provides hours and hours of addicting fun as you use your skills to try and stop the evil pigs from thieving the bird's egg, equipped with hoards of…well, angry birds! This cydia game can be used by jailbroken and warranty iPads alike, and is not exlusively through Cydia. And don't forget apps like 'gameboy4iphone' and 'genesis4iphone' that will serve as an emulator to all of your favorite classics! The possibilities with Cydia's gaming offerings are endless.
And do not forgot to list Cydelete for one of the popular and best Cydia apps for ipad. With this one of the popular free apps for ipad (jailbroken ipad) you could uninstall cydia apps easily like on original itunes apps.
Well, those are just my personal opinion of best cydia apps for ipad and ipad 2, please share your own list here if you have another list of best ipad cydia apps.