EverNote: File What's On Your Mind Into Your iPod Touch
Evernote is an information organizer that lets you keep tabs on anything you want right on your iPod Touch.  You can make to-do lists, save random pictures that you take on the road or create a voice note of a thought you may want to remember later.  Easily access these ideas and information you've come across throughout the day in an organized and attractive way.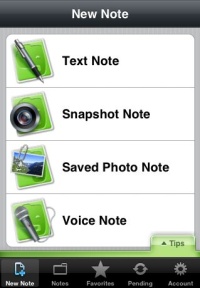 All notes that you save get sent to the Evernote servers automatically via your mobile gadget's connectivity options.   Free registration is required before you can save with a 40 MB cap on total storage.  A paid premium account that costs $45 a year is also available if you wish to get a more permissive upload allowance (500 MB).  With a paid account, you can end up with an amazing amount of searchable historical notes up in the clouds over long periods – sure beats keeping a journal, doesn't it?
You can create three types of notes – text, voice or picture.  You can choose how to organize it via a built-in notebook system, apart from adding titles, tags and descriptions to each one for easier searching.  One notable search feature is the clever identification of text inside images.  While it misses stuff out on occasion, it nails others in a pretty impressive way.  Now, if they can add it to the voice recording, the thing will be golden.
You can also access the same notes you save on Evernote via a Mac or a PC interface.