I find the name Rolando odd for a game. It's especially strange since the game features cute, round characters called Rolandos while every other Rolando I know is a South American dude with a moustache. Seriously.
The much-awaited iPod Touch title was especially created for the platform and features maze-like environments through which you will lead your troop of Rolandos without losing a single one. Numerous items are strewn around that you can use to lead your characters to safety, including levers, trampolines, catapults, bombs and more. The problem-solving aspect of the gameplay reminds me somewhat of an old favorite from years past – the PC title Lemmings – except Rolando is more fast-paced and features a bit of an arcade component to it.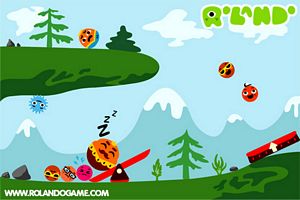 Rolando features a highly-responsive environment that takes full advantage of both the touch and tilting interfaces of the iPod Touch, feeling at times like you actually have little critters traveling in the palm of your hand. The physics is as natural as can be and works just as you would imagine it to with actual objects. The rich and colorful graphics are quite the eye candy as well.
The game features 36 levels played out over four different worlds. It's currently available from the App Store for $9.99. Trust me, it's worth every penny.