Disco Baby App for iPhone, iPod Touch and iPad on the iTunes App Store, AppleRepo.com. Disco Baby is one of those apps out there that's an 'out there' app. It's what the title suggests; a cute-as-a-little-button baby boy or girl dancing to some gloriously cheezy seventies disco music. If you think of a certain Mr. Travolta aged 1 and a bit strutting his stuff to a song called 'Gimme that Milky Thang' you're in the right area. What's more it's an original game (which is not so common these days) so thankfully no zombies were killed while it was made. It's cheap as chips to buy and the makers – Drippy Cat make it clear on the iTunes store that there's no in app purchases to trip you up. You get a complete game instead of half of a free game which has the enticing option of buying 5 billion gold coins for the price of a small car.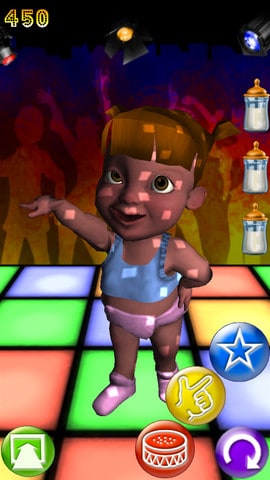 So Here's the iTunes link and you can check it out on YouTube.
It's colourful and bright with colored spotlights, the reflections from a disco ball moving over the baby, and it even has a Saturday Night Fever style dance floor with multicolored squares, as you might expect from a disco theme. The baby fills a large part of the screen so it's no problem playing it on the smaller screen of an iPod touch or iPhone, though it works well on an iPad too. The baby is hugely appealing and lays down the kind of classic disco dance moves that it's parents would have been strutting back in the day. Get ready for some serious air pointing and hand twirling. It's all nicely tongue in cheek and the baby never looks too grown up. The game even has soundbites of a real toddler laughing and saying things like 'get down!'. But there's another thing to be commended about the baby. The makers were at pains to make sure you can customise it so it's a boy or a girl and choose it's eye color, it's skin color, hair and nappy color as well.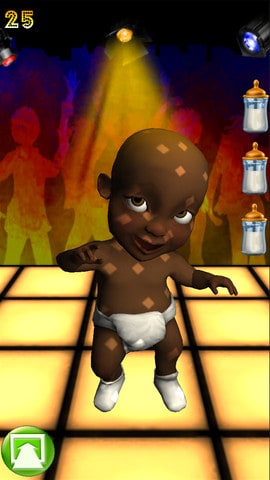 So what about the game itself? With the recent update there's actually three ways to interact with the app. The game it was originally released with is a memory game. You have 3 different colored spotlights That play in a certain order. You press the same color buttons in the same order and the baby does a new dance. Then one more light gets added to the end of the sequence and repeat until you run out of brain power.

It turns out the makers of Disco Baby spent time watching children play it and came up with two extra game modes. One is a very simple affair for younger children. They like to press the buttons to make the baby dance and some like to dance along with it. But a memory game means that a parent would have to play the game to get the new moves. So a simplified version of the game means that a simple button press gets a new dance so toddlers can interact with the game and see the new moves without nagging their tired out parent too much. But older kids like the game as well and for parents who have 'Math Homework Disenthusiasm' issues there's a math game. It's a straightforward affair with multi choice answers to a series of add/subtract/multiply/divide two numbers that can go from really simple to flooring a University professor when it's in timed mode – yes there's two modes to this game, 'Beat the Clock' and 'Set Questions' so there's even more value for money to be had.

The two questions that have to be asked about this Disco Baby App game are 'How cute are the babies?' and 'Is there a game in there?' since there are one or two vaguely similar apps around that are more like technical demos rather than having a game in there. The answer to the first question is yes; the babies are really cute and fun to watch for all ages. As for the second question? Yes! There's more than one game to be had from this charming app. Excellent value for money and a recommended buy.

Grab these Free iTunes Promo Codes for this app:

About the Author: