Those who have ever tried to lose even just a few pounds knows how important it is to count all of the calories that you eat within a day – and how hard that can be. Now you no longer have to be scribbling notes or be keeping track of every cup of coffee and snack in an overloaded notebook stuffed with tables of calories and spreadsheets. Just download Calorie Tracker for the iPod Touch and you'll have plenty of space to write (or type) all of this important information in.
Read: How Does Apple Watch Calculate Calories Burned
Calorie Tracker is a cool little iPhone app that's been developed by Lifestrong to help you keep track of exactly everything that you eat and mark it in the cute little tables that Lifestrong has provided. And not only can you keep track of your calories, but your fat content for the day, and the total cholesterol found in a particular food item. There's even an area for you to type in how large the serving was, and what time of day it was that you ate it!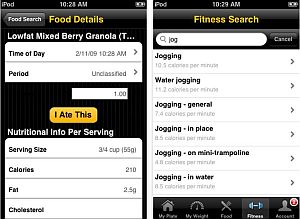 Not only can you keep track of the calories you take in with Calorie Tracker iphone app, but also how many calories you burn. With the Fitness Search feature of the app, you can enter how long you exercised for, and it will calculate for you how many of those calories you just enjoyed, you also just burned off.

You may also want to install the WiFi finder app for the iPod Touch if you want to also install Calorie Tracker. This is because to take full advantage of all the app has to offer, you'll need to be in a WiFi area. But even if you've forgotten to download the WiFi finder app, you can always still write it down to enter into your iTouch later.

Now, there's absolutely no reason to not be able to shed those extra pounds that you've been wanting to! Take your iPod Touch out to lunch with you, or just have it handy at the dinner table. And don't forget to take it to the gym with you too! That sweat will still count towards your workout goals, but being able to see your results every time you look at your iPod Touch will be sure to motivate you even more!

The Calorie Tracker app for the iPod Touch isn't free, but at $0.99, we'd thought we'd let you know about it anyway! Get this great weight loss app for iphone here.

About the Author: