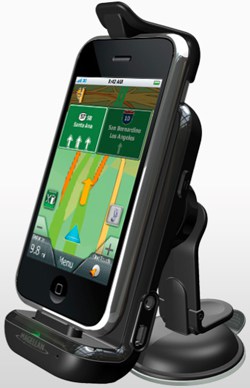 Apple Iphone users have been flooded with newer apps entering the market every day. It's hard to tell if all the applications are useful but an Iphone GPS car kit is always a worthwhile accessory to possess.
TomTom, Dual and now Magellan all have jumped-in with their Iphone GPS kits that includes a dock and an application software. Magellan is one of the first to launch a car kit. Their application software is available from the Apple site for $79.99 that's $20 cheaper than TomTom's kit.
Magellan's kit will work with second and third generation Iphones. Unline most other Iphone GPS kits Magellan's will also work with Touch as well as 3G and 3GS. It plugs into your car's cigarette lighter jack and charges your Iphone while you drive. All the regular features of a GPS device, such as, voice enabled route maps, step-by-step directions, points of interest, traffic updates and route planning. The docking bit is different from most such kit docks. It doesn't attach to car's windshield; instead it sits on your car's dashboard. This allows you for more horizontal balance and you can input address horizontally on your Iphone rather than juggling with a vertical screen.
Magellan's kit is available for pre-order on Amazon for $129.99, which makes it $10 more expensive than the TomTom model. The Magellan is scheduled to ship by December 11.