Many Photo applications have been developed for the iPhone. Often users get confused that out of so many applications which to use so that they can extract the most out of their iPhone. So here we have reviewed some photo application for the iPhone that we think are good and user friendly enough for users around the world.
PhotoCalc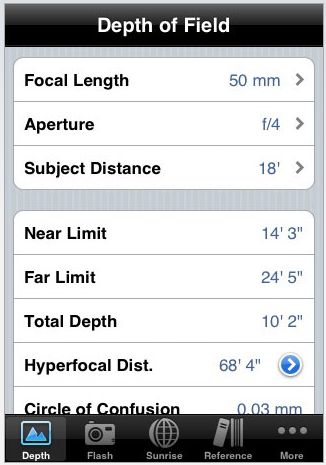 PhotoCalc is one application that doesn't allow you to view or click photos. It is rather an application that helps the user know different aspects of a photo. This application is made for either professionals or hobbyists. It does calculations such as Depth of field, hyper-focal distance calculations, exposure reciprocation, and flash exposure calculations. Through a location based solar calculator it can even calculate the sunrise and sunset time. In addition to the calculations, PhotoCalc also provides a reference system, which includes a glossary of terms and several reference documents like the Zone System, and the Sunny 16 Rule. It is priced at $2.99. get this iPhone App here.
Photogene

Photogene is a simple to use photo-editing software. Via this software you can select photos form the iPhone's camera roll, manipulate them and save them back on the camera roll. Although the features are not really hi-fi, but all the basic features are present and easy to use. Borders, cropping, rotation are some of the features present. Priced at $4.99, it is a bit expensive. Download the iPod Touch App here.
Klick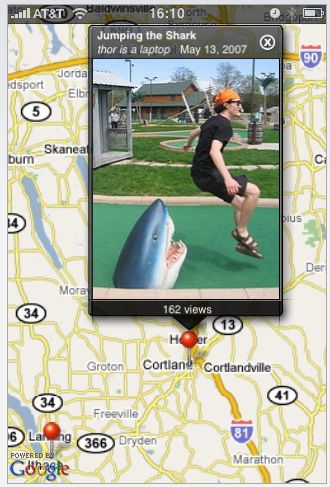 Klick is a Flickr application for the iPhone, which allows you to view and post photos on Flickr. Out of all the applications, Klick stands out the most because it is free and easy to use. It also has a Near Me Mode, which allows you to view photos near you via google maps. You can also mark your favorite photos and make comments. It also has an interesting feature, which allows you to view photos and comments in a slideshow form. A must have application for your iPhone. Grab this Free iPod Touch App here.
Photobucket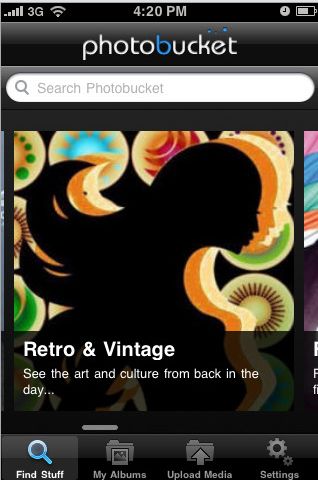 Now photobucket is a completely new type of photo application. It is a native application to the iPhone. It allows you to upload photos to the photobucket website. An account for the site can be made internally from the application. You can click photos, upload photos from the camera roll and browse the existing photos on your photobucket account. Although the application is feature rich but it is also has bugs and is known to crash often. Get this Free iPhone App here.
Big Canvas Photoshare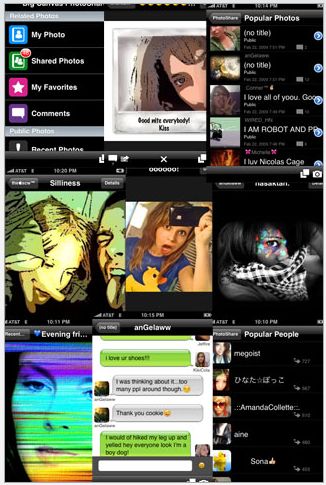 Big Canvas Photoshare is an excellent application for clicking and sharing photos. The biggest plus point is that you don't have to register anywhere. Although by registering you can benefit more from the application. Photos can be browsed via categories such as most popular or most recent or most followed. This application is used more in the asian countries, rather than western countries. Download the app here.

Out of all these iPhone Photo Applications the best application to use depending on interface, features, reliability and price would be Big Canvas Photoshare.

About the Author: