Now for all guitar lovers, the iPhone has a solution. Instead of carrying your guitar everywhere, you can now just use the iPhone Guitar Application developed by Shinya Kasatani as a Google Code Project. This iPhone application lets you turn your iPhone into a virtual guitar so that you can groove along with the songs on your iPhone.
The six strings of the guitar are shown on the screen and you can just start playing it like any normal guitar. The sound produced is just like that of any real life electric guitar. Although it isn't a substitute for an actual guitar, but it does have a couple of neat features which will make you think twice about it. This guitar application for iphone lets you play six types of instruments, Acoustic Electric Guitar, Electric Guitar, Muted Guitar, Classical Guitar, Electric Bass and Ukulele. Several guitar effects such as Distortion, Chorus and Delay are also available. Other features such as automatic plucking, string bending, turning On/Off the Open Hammer and an option for left handed users makes it a pretty decent application.
What the guitar application for ipod touch and iphone shows on the screen is a set of six strings and a little place to strum at the bottom. While a number of preset tunings are available, you can also tune any string up to an octave in either direction. This allows the users of this application to work on any tuning they want. The surprise in this application was a complete Ukelele with the small string on top. Out of the three effects (Distortion, Chorus and Delay), two can be turned on at a time.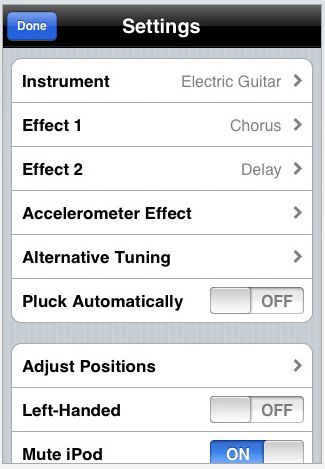 Till now, the iPhone Guitar Application has been running on iPhone firmware 1.1.1 with no problems, although it is yet to be tested on firmware 1.1.2. The developer also feels that though it may take some time for the application to be available to firmware 1.1.3 users, but plans are being made by him to make the application work on all firmware's. To install this application you have to launch the Installer, then choose Sources, and add http://podmap.net/apps to your repositories. You will find this application under the 'Toys' category. Although some faults that have surfaced about this application are that the application runs slowly and to use you have to be really precise so as to not touch other strings and emit an unwanted sound. The lack of tactile feedback is another minus. To get any authentic sound and strumming is a huge effort. The basic aim of this application is single note experimentation rather than playing it like a guitar. This application has also come in Apple's top 10 most popular and most downloaded application for the iPhone in the year 2008.

To sum it all up, the iPhone pocket guitar application is a steal at only $ 0.99 helping not only those who long to play the guitar, but helping those also who would just like to play a tune or two in fun. This application is seriously a must have for any musician.

You could buy this Great iPhone Music Application Here.

About the Author: