iPhone Stuck on Apple Logo: How to Fix the Problem
Sometimes when you are playing or just simply browsing through your iPhone, once or many times, you have encountered your iPhone stuck on apple Logo. It can be very annoying as instead of enjoying your phone and using it as to how it was supposed to be used, you have to reboot your phone and start all over again with what you are doing. If you experience your iPhone stuck on apple Logo, don't panic. It can easily be solved with a few steps. Here are some of the ways you can do to fix your iPhone stuck at apple Logo.
iPhone stuck on apple Logo: Ways on How to Restore
The immediate answer given to you and is also written in the manual that comes with the iPhone you just bought is to press the home button and the power button at the same time for at least 25 seconds. But for some people though they follow the instructions carefully and even timer or count to 25 seconds it still doesn't work. They still experience their iPhone stuck at apple Logo. If you still have that problem hold the home and power button until your phone shuts off. Open iTunes and hold the home button. Remember to not let go of the home button even if you are still doing other things. Plug your iPhone to your computer and the iTunes + arrow + cable screen will suddenly appear. iTunes will then recover your phone from an unnecessary shut down. Click restore when prompted and choose restore from backup. It may take a while before your iPhone is restored to its full potential but everything is worth the wait. Most people panic when their iPhone stuck at apple Logo. Stop panicking and stressing yourself driving to the nearest apple store as you can easily restore your iPhone with a few simple steps.
iPhone stuck on apple Logo: Other Problems and Fixes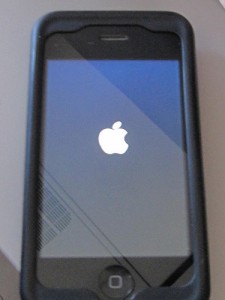 Sometimes when you are installing some iPhone apps you experience your iPhone stuck at apple Logo. You will reboot and when you connect to iTunes it doesn't recognize it as your iPhone and when you turn on your iPhone again, the apple logo says hello to you yet again. Here is a way on how to fix this kind of repetitive iPhone stuck problem on apple Logo problem. Go over and search for the /System/Library/LaunchDaemons/com.apple.SpringBoard.plist file on your computer and back it up with com.apple.Springboard.plist file on your computer. Download the software EditLitePad on your computer and install. Rename the com.apple.Springboard.plist file with com.apple.Springboard.plist.txt. Now it ends with a .txt domain instead of the previous .plist. After renaming the domain go to EditLitePad software edit the file you will see and remove the DYLD_INSERT_LIBRARIES. Now that should fix your problem of iPhone stuck on apple Logo.

Watch this video tutorial to fix your iphone stuck at apple Logo problem:


The iPhone stuck error on apple Logo experience can make people panic but there are ways on how you can fix the problem on your own without having to stress yourself and even drive to the nearest Apple store. With these simple steps you can fix your iPhone stuck on apple Logo problem anytime.

About the Author: