Unfortunately, this version of redsn0w is not compatible with ultrasn0w so if you make the jailbreak with ultrasn0w you can't unlock your iPhone.
redsn0w 0.9.6 RC15 is compatible with :
    iPhone3GS
    iPhone4 (GSM)
    iPod touch 3G
    iPod touch 4G
    iPad1
    AppleTV2G (v4.3 8F202)
Step 1
Download iOS 4.3.3 for your device
Install the last version of iTunes
Step 2
Make the iTunes 4.3.3 update to iOS but only if you need unlock. If you want to unlocked your iPhone this tutorial is available only for Mac OS X.
Step 3
Connect your terminal to PC. Open redsn0w (if you have Windows 7 I will recommend using redsn0w in compatibility mode with Windows XP), click the Browse button, select iOS 4.3.3 IPSW downloaded in step 1 and click Next. redsn0w exploit will implement and will move to the next step.
Step 4
Here we have a lot of options. If you only want to jailbreak then just check option Install Cydia and click Next. If you want to enable multitouch gestures and check Enable multitasking and if you want to enable gestures and animated boot logo then check Allow boot animation then click Next.
Step 5
Now you must enter the phone in DFU mode. First close the terminal, then click Next and redsn0w will show you how to put the phone in DFU Mode.
press the power button and hold 3 seconds;
without giving the power button and press the Home button 10 seconds;
after passing the 10 seconds release the power button and the phone should already be in DFU mode and begin to implement the redsn0w exploit.
if everything worked and the jailbreak was implemented then you should have this image displayed redsn0w.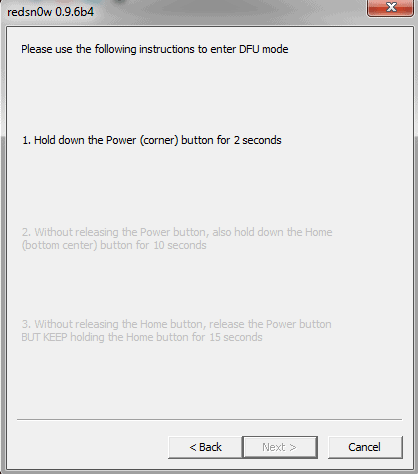 About the Author: