How to Return an App You have Bought from the AppStore? – AppleRepo.com, The number of applications in the AppStore has done nothing but grow and grow from that in 2008 Apple made available to developers and users the digital single market that can buy and get applications to all users of iOS and OS X, model which it has been copied by all its competitors.
Although the average quality of ipad and iphone applications is much higher in the AppStore comapred to other markets like Google Play or Microsoft Store, largely due to the review process that Apple submitted all itunes applications, you probably also occasionally when we buy an ios application that does not meet your expectations or does not do what it promises. So now you want to return an application or any digital purchase from the iTunes Store, iBooks Store or AppStore
In December 2014 the European Union made a number of changes to protect the rights of consumers in the digital world by which we are entitled to 14-day period in which we can return any app, book, song or movie purchased from any of Apple digital stores.
The iPhone Apps claims process is very simple and is described as follows: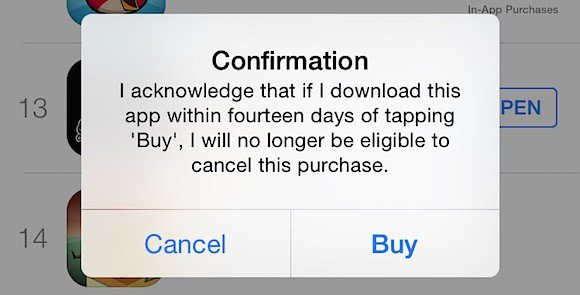 Go into the Apple website to signal a problem and identify with your Apple ID, the same Apple ID that you used to make the ios apps purchase that you want to return.
Please look at the shopping list that appears. you can filter by the type of purchase (Music, Application, movie, book) or directly search for the title of the download with the browser that appears in the upper right corner. The latest downloads appear at the top of the list.
Once selected, press the download button Report a problem (Report a problem)
Select a problem that appears on the list and describe the problem.
Then accept the action and go. you will receive the amount of the purchase through the card that you set at the iTunes account within five to seven business days.Obviously for the sake of being able to complete this process and to

return purchased apps from apps store

with little explanation does not mean that you are entitled to download everything you want and proceed to refund within fourteen days. Apple keeps track of the number of applications you return and when it detects that you are being abused in this process will come a point where you will not let you make returns for some shopping as you can see in the screenshot.
About the Author: