PARENTS ARE SAVED – FUN FOR CHILDREN
A new iphone application called Star Teeth iPhone app for kids was released on itunes AppStore on Wednesday November 17th. The original idea of this iphone app came from one of the employees of the development company Fungamental Labs. This mother of two kids has lots of experience with everyday small fights she has with her kids. In the bathroom. While brushing their teeth. We know that parents would love their children to keep their teeth healthy but it is not always so easy to motivate our kids to brush their teeth properly. Finally Fungamental Labs came up with StarTeeth. The graphically attractive solution turns this not particularly amusing activity into a lively adventure.
The application offers children a series of characters, plus children can now choose and vote for their favourites for the Christmas edition, which will be launched at the App Store on December 5th 2010. These buddies teach them how to brush their teeth properly and how long for, using the rhythm of a song.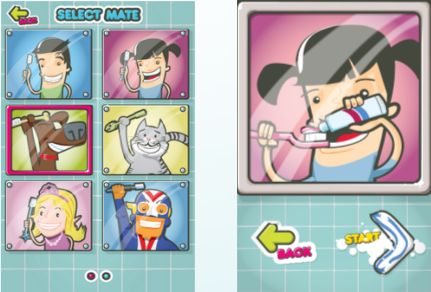 One of the biggest advantage of this Star Teeth application for iphone is its intuitive use, even for small children. In the How to Brush section, parents will find instructions about how their children should brush their teeth properly, according to the latest recommendations of dentists. The application also includes a timer showing how much longer the children should brush for. The application is optimised for iPhone 4 and is compatible with iPhone iOS 3.0 and iOS 4.0.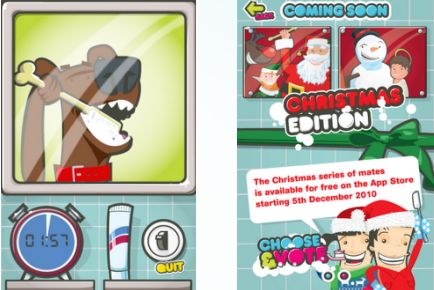 For the first week this iphone and ipod touch app is for free. Afterwards you can buy it for $1,99.

What will come next on Star Teeth iPhone App?
There are new series of characters prepared that everybody who brushes their teeth with Star Teeth will get free of charge. At the same time, votes will also be collected for the new special Valentine edition. Another innovation will include the possibility of setting the brushing time in case we want to customize it. And if children have their favourite songs, we will be able to put our own music into the iPod for while they are brushing their teeth.

Download Star Teeth iPhone App Now!

About iPhone App Developer:
FUNGAMENTAL Labs
our mentality – our apps – your fun
The company was founded in late 2009. We are a team of young and enthusiastic developers with a clear vision – to transform our own original ideas into functional and intuitive applications, with an emphasis on quality and unconventional design. Even though we are fully captivated by the subject and have lofty ambitions, we stand with our feet firm on the ground. Link: www.fungamental.com

About the Author: