One of the best way to watch videos and movies is with the use of iPad. It can be one of your boredom killers especially if you are spending a lot of time travelling. IPad is portable and chargeable, which make it easy for movie watchers like me.
Have you thought about connecting iPad to TV? It can be pretty convenient especially if you want to share it with your loved ones, am I right? Okay, I know you are in this article because you wanted to know how to connect your iPad to your TV.
There are a couple of device you can use to connect iPad to TV, one of must have ipad accessories. These devices include the video graphics array (VGA) adapter, high definition multimedia interface (HDMI) adapter, and component audio video (AV) cables.
Read: How to Mirror iPhone to TV?
How to Connect iPad to TV With the Use of Component AV Cables
Here is how to connect iPad to tv using component AV cables; There are two ends in an AV component cable. The other end is composed of the green, blue, and red pins, which you are going to connect to your television. On the other hand, the other end is for the iPad, which is a flat USB pin.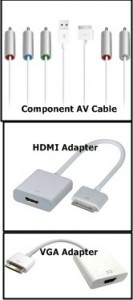 There are also the so-called composite cables. These cables are appropriate for televisions which only have one AV-input hole. Basically, the AV composite cable don't have the red, blue and green pins.
For your information, you need to make it sure that the video application you are going to use supports video out options like YouTube and Netflix.
Tips to Connect Ipad To TV With the Use of VGA Adapter
To use the VGA adapter to connect ipad to TV, make it sure that your television supports VGA inputs. VGA is not quite popular or common in televisions. These are more common in projectors and computers. VGA adapter composes of about 15 pins and it looks like a small box. Unlike the component AV cables, VGA adapters do not link the sound of the video you are playing. You will need an external speaker so that you may be able to watch the movies better.
Connect iPad to TV With the Use of HDMI Adapter
If your television supports HDMI or High Definition Multimedia Interface then the HDMI adapter is perfect for you. As the name suggests, HDMI provides a better picture to movies which are synced from your iPad. What's great about the HDMI adapter is that it actually supports the mirroring the videos, which are not available using the VGA adapter, composite AV cables, and component AV cables. Video mirroring means that you are given the opportunity to simulcast your videos to your television even if the application you use does not support video output.

Watching movies on a bigger screen is more fascinating to watch than to watch it on an iPad screen, which is quite smaller. However, watching movies and music videos using iPad is not bad at all especially if you are on the road most of the time. Please share with us if you have another great tips to connect ipad to TV, Thank you for reading this post.

About the Author: