IPad, a line of tablet computers manufactured by Apple Inc., offers us lots of entertainment. From listening to audio files, reading digital books or electronic books, to playing games and watching movies, we can do it all, almost all. We don't have to carry our laptops because these are far more heavy than iPad. IPad is thinner and light weight, plus it supports multitouch functions.
IPad Crashes and Freezes Problem – Why it Could Happen?
However, iPad, like any other laptops and even smart phones, can also crash. It is just a machine anyways and it will stop working if in case inappropriate functions are set forth. Here are just few of the reasons why your iPad crashes:
The application launched is interrupted.
Corrupt ipad applications or software installed.
You forgot to update your iPad.
Inappropriate iPad updates.
Incompatible applications or games installed.
Inconsistent or low internet connection.
Inappropriate or incompatible video or audio file formats.
How to Reboot Your IPad after Freezing?
When all of the above crashes happen, our iPad screen freezes. The iPad does not respond to our taps anymore. What you usually do when crashes and freezes happen? I know you are going to get pissed and of course you are going to put your iPad aside and reboot it.
Rebooting the iPad can be a good way to address ipad crash issues. If you don't know how to reboot your iPad, when certain freezes arise, follow the quick and simple steps below.
Locate the HOLD and HOME buttons of your iPad. You can usually see the HOLD button at the top of your device and the HOME button below the screen.
Once you find it, hold the HOLD and HOME buttons, hold them for several seconds until the iPad screen flashes and turns to black afterwards. It will now turn down the power of your iPad.
To restart your iPad, you need to press the HOLD button. That process should be able to restart your iPad and refresh system settings.
How to Reboot Your IPad under Normal Scenarios?
Rebooting your iPad under normal conditions is quite easy compared to restarting your device from freezing or crashes. Here are the easy and quicker steps on how to reboot your iPad under normal conditions.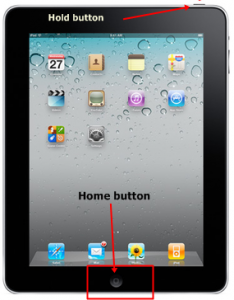 Locate the HOLD button at the top portion of your iPad.
Hold the HOLD button for a couple of seconds until the Power Off slider will be displayed on the screen.
Tap and slide the slider to turn off your iPad.
Press the HOLD button again to power on your iPad.
Thats all to reboot your ipad tips, Pretty easy, isn't it? Well, you have to keep in mind that constant ipad crashes and freezes are not really good for your iPad. If you love your ipad device and you don't want to spend cash repairing it or buying another iPad, you should take good care of it. You can read the above reasons and then as much as possible, avoid those stuffs. Thank you for reading.

About the Author: