Bibi Blocksberg – The Broom Race iPhone App review
I have heard of the story Bibi Blocksberg, a german audio theatre series for childrens created in 1980 by Elfie Donnelly. The main character is a girl called Bibi Blocksberg who is a witch.
Now Nurogames, to celebrate the 30th anniversary have developed this Broom Race game for the iPhone and the iTouch based on the award winning Nintendo Wii game. I had the chance to review this Bibi Blocksberg – The Broom Race an iPhone game. The game is about bibi the teenage witch mastering all the levels in the game. The broom race is worth having it and fun playing the game.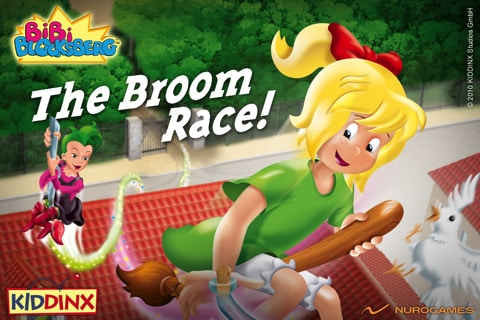 Bibi Blocksberg iPhone Game Features:
* Language selection (English, German, French)
* 2 race modes: the time trial and the Cup-run
* 4 characters: Bibi, Schubia Wanzhaar, Flauipaui and Florian
* 6 unique & rapid routes
* Share your Highscore via Facebook or Twitter
* OpenFeint and Game Center integration
This broom race game has two differrent modes, the Time trial and Cup run. You can also choose four differrent characters like Bibi, Schubia Wanzhaar, Flauipaui and Florian. Want to play more, go with more number of laps such as 8, 4 and 2 laps.
There you go, steer it by tilting the phone left and right. Apply brakes whenever needed, it is in the screen. In the end, You will either score high or win the race. If you score high, your scores will be added into Openfeint and Gamecentre.
Website: www.nurogames.com/bibi/