Tips for iPhone Medis Sync Options – AppleRepo.com, Syncronizing an iPhone is a process of copying data such as your contacts, web bookmarks, emails, and calendars from your iPhone to or from your computer. The first step is to activate your iPhone. This would take you to the sync management window. The minute you arrive at the sync management page, your iPhone should automatically start synchronizing with your computer — if only you have the latest iTunes software installed on your computer. You may need to change the sync option by clicking on the tab at the top of the Window.
Let's delve into the nitty-gritty of how to sync iPhone in 1-minute.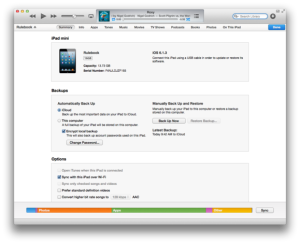 1. Install the latest iTunes on your computer and make sure it is up-to-date.
2. Check for the cable that came along with your iPhone and connect it to the computer. The iTunes should open as soon as the computer recognizes the new device. Now locate and select your device and click on the info tab.
3. Select the items you would like to sync
4. Click on the Apply button. Your iPhone should start synchronizing now.
You can view sync files by clicking on the info tab. The info tab lets you sync contacts, emails, and calendars just the way you want it. Actually, what happens is that when you click on the tab, it will take you to a Window where you would find all the media files your iTunes has identified on your computer. You also get to see what is currently being sync, if any.
The iPhone Media Syncing Options setting lets you set your iTunes to what you need it to be. On the iTunes, you can choose to merge your information, which mingles your data. The replace option would simply replace the old data with the new one.
In summary, to sync devices such as iPhones, iPod touch, or any other Apple devices is easy. They follow almost the same steps. It is very easy to sync iphone / iPod touch with a computer. It gets a lot easier like ABC if you have synced data before. The general steps involve connecting your apple device to the computer via the cable that came with it. Select your apple device from the list. It is a great idea to first name your apple device. Decide if you want the iTunes to sync automatically with your Apple device or not. I always allow mine to sync automatically. To sync only items you have selected, on the iTunes windows, select Only Sync Checked Songs and Video check box.
Post Tags:media sync options on iphone, media sync options iphone 6, how to change media sync options to allow itunes update, change media sync options iphone, how do i change my media sync option on iphone 7 plus, midea sync option iphone, iphone media sync options