Blackberry Messenger for iPhone: Not Happening Soon
Blackberry Messenger for iPhone
There are many issues spread in the internet, many said that now iPhone users can enjoy the feature as there is now the Blackberry messenger for iPhone, Is that true or just rumor or Hoax
Blackberry and iPhone has constantly battled for being the number one smart phone in the market today. It is a split market in reality as there are about as many Blackberry fans and users as there are iPhone fans and users as well. Both companies and brands has continued to pursue excellence and innovation in providing people with the latest and most up to date technology. Both companies have continued to dominate the market shares for cell phones ever since both released new models. Now bridging the gap between the two is the Blackberry messenger for iPhone. There are many speculations about such and many people are excited foe the release of this Blackberry messenger app for iPhone. There had been a lot of rumor as to the date of the release but to this day there have been no confirmations about the release. So, is the Blackberry messenger for iPhone true or just a hoax?
Blackberry Messenger for iPhone is a Hoax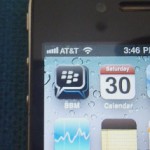 There have been a lot of buzz about this iPhone app ever since the start of this year and even credible sources have put their name on the line to confirm about such an app available for the iPhone really soon. But to many people's disappointment the rumored date of release was a hoax and there was never a Blackberry messenger for iPhone application released. Until now many people are still hoping and waiting for the release of the bbm for iPhone to enjoy messaging people despite having different brands of smart phones. It was even speculated that there will initially be a Blackberry messenger for the Android and later they will release the bbm for iPhone but, to many people's dismay there was none released. But people aren't losing hope as they still hope that someday the gap between the two brands will be bridged.
BBM for iPhone: May Not Happen Soon
People who critics this application say that it is not that easy to create a Blackberry messenger for iPhone application as both phones are run on different servers. Although there is a possibility that such application can be built, iPhone users will not enjoy the fullest potential of the BBM for iPhone application as there will be some features that the servers of iPhone won't be able to run as they can only be run and read by Blackberry servers. It is because of that difference in servers that hinders the creation of the BBM for iPhone 4 or BBM for iPhone 4s. But it is not likely that apple is going to switch servers just for the sake of one application. Also, doing such, both phones will run exactly alike and both companies wouldn't want that as they will lose their edge over the other.
Overall, such application may not happen anytime soon but people are still hoping that one day the gap between blackberry vs apple users will be bridged, and they'll thanks to the creation of the Blackberry messenger for iPhone.