Surf Securely with VyprVPN for iPhone, iPad or Macbook.
When you go online, your IP address leaves a digital marker. This enables your ISP, the Government and Online Advertisers a window into all your Internet activities—Web browsing' email' online banking, chat' webcam etc…
This is where VyprVPN steps to the plate.
Whether you are using your Macbook, iPad, or iPhone, VyprVPN enables customers to have privacy, security and freedom while online.
How does VyprVPN work?. VyprVPN for iPhone replaces most of the functions of your ISP. Data is re-routed into a secure tunnel using VyprVPN's trusted network. In addition the IP address your ISP has assigned is replaced by an IP address owned by Golden Frog/VyprVPN. This will enable the customer to bypass firewalls and content restrictions, and appear local to any of our global VyprVPN locations:
United States: Los Angeles, California
United States: Washington, D.C.
Europe – Amsterdam
Asia – Hong Kong
Why would I use VyprVPN?:
The coffee shop Wi-Fi that is so convenient puts your data in extreme danger. As a matter of fact, free Wi-Fi hotspots are one of the fastest growing sources of identity theft. Without a personal VPN, hackers and data sniffers can tap into your connection on an unsecured public Wi-Fi Hotspot. VyprVPN encrypts Internet connections providing customers the added security they need.
Mobile Networks are inherently insecure- they were not built to protect your data. What you are doing, saying and viewing is out there. VprVPN enables you to create a secure Internet connection on all your Mobile Devices- blocking unwanted hackers, thieves and peeping toms into your world online.
Is it hard to use? VyprVPN can be configured on your iPhone or iPad in less than 30 seconds. It is almost as easy to use on your home computer. I'll go through the iPad configuration steps.
1.Launch the Settings application, click General, click Network, click VPN
2.Click Add VPN Configuration…
3.Click PPTP and enter the following information:
– Description: VyprVPN
– Server: Enter one of the following names:
us1.vpn.goldenfrog.com for Los Angeles, CA
us2.vpn.goldenfrog.com for Washington, DC
eu1.vpn.goldenfrog.com for Amsterdam
hk1.vpn.goldenfrog.com for Hong Kong
Account: Your Golden Frog Login (e-mail address)
Password: Your Golden Frog Password
4.Click Save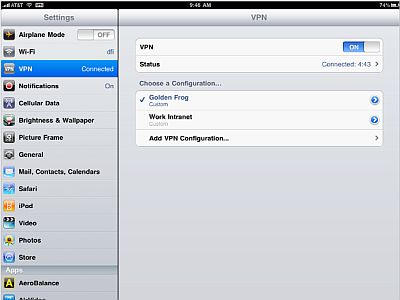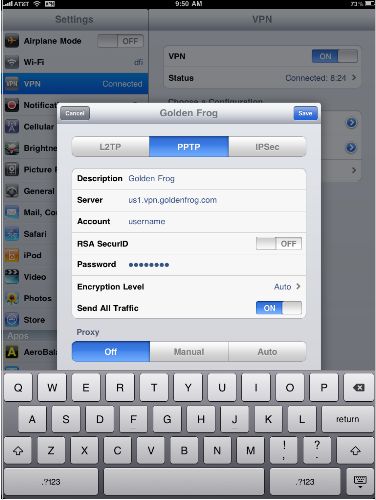 Now that you know why VyprVPN for iPhone is important and how easy it is to use, I recommend you signup.

About the Author: