The iPhone can be one of the most productive platforms for the average user, the ability to email, surf the web, and message in different capacities has changed the game in moblie computing. The popularity of GTD or Getting Things Done has brought dozens and dozens of GTD iPhone apps to the App Store, but only a few stick out and really help you get things done with minimal stress. With that, I want to introduce you to one of the most useful applications I have found for quick capturing of ideas and information is Reqall.
A todo list and project list that data can be entered either by using your voice or by text. After you record the data the application syncs to their servers and then back to you in a few minutes, with your complete transcription in your hand. The service works remarkably well, there is an online app that can be used to access and complete your tasks for free as well. Free and paid versions of Reqall make it a contender for best all around app in my opinion, allowing users the freedom to choose which plan is best and providing some of the best ideas for an app I have seen on an iPhone..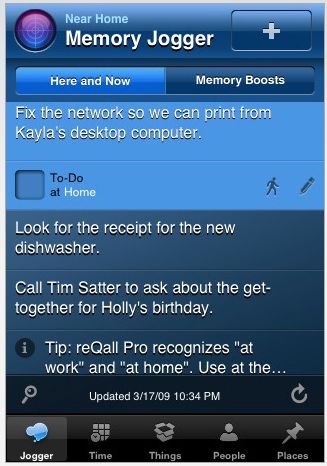 Reqall is also available as a pro version that provides location based tasks, push notifications, and other premium features for $24.99 a year. However, using Reqall you can have it send email notifications as well, so with Push Gmail or other Exchange services set up, you can get your notifications with a little more work than the professional version (checking your email is an additional step but if you only use the App on occasion, this is probably a better alternative to paying for the premium service).
Overall, Reqall is a 4.5/5 with some great features and the only real negative about this fantastic iPhone app is the delay it takes for the syncing of your information. Grab this Reqall iphone app here.