We've seen more than a few downloads at the App Store that allow you to play music virtually on your handset. The Air Guitar does likewise but lets you have a bit more fun doing it. Taking advantage of some of the iPod Touch's best features – multi-touch, accelerometer and movement recognition – the Air Guitar turns your device into a virtual instrument, complete with a fretboard and strumming motions.
You can play the Air Guitar game for ipod touch either as a six-string or a bass, with just the simple click of a button. To use it, you must choose a key and chord progression, which will rearrange the available fretboard depending on which part of the piece you are in. You can use the ones preset on the device or create your own progressions, allowing you to play a whole range of musical styles.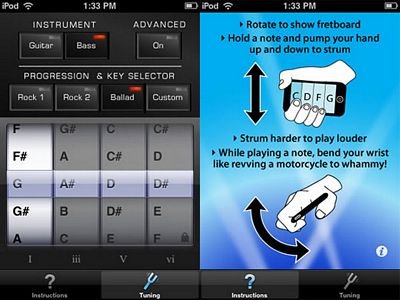 Once you've set things up, you activate the fretboard to show up on screen by turning the iPod Touch to its side. To play, simply hold a note and pump your hand up and down to begin strumming. Speed up your movement to strum harder, which causes the app to play the notes louder. You can even tug on a virtual whammy bar by simply bending your wrist sideways. You can play it solo or with accompaniment using tunes saved on your device.
This ipod touch app is a steal for $1.99 – get yours now!