MotoRacer is an exciting racing title game for the iPod Touch, based partly on arcade classics Time Pilot and Road Rash. In the ipod game, you take a motorcycle and race it across various landscapes, from city streets to arid deserts.
You start the bike via a gas button on the screen that you have to press down on to continue accelerating. Handling is managed by tilting the iPod Touch left and right. Since you'll be racing on public roads, you'll need to dodge vehicles and other objects.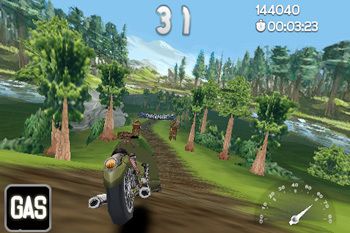 Occasionally, rival bikers will try to knock you down. You can either avoid their attack or clock them yourself via a "punch" button that appears on the screen when threats are coming at you. It does feel like the particular control was added after the fact, however, as managing it is awkward and completely unintuitive. In fact, there's no easy way to get your blows in without taking your foot off the gas.
New courses are unlocked as you win more races and there's a sufficient lot of them. The game saves where you are on the road when a call interrupts your play so you can return to the same race later.
Featuring great graphics and entertaining gameplay, Moto Racer could have been an awesome racing game for ipod touch if not for the twitchy controls. For a dollar, though, it's a cheap, fun way to the pass the time.