IPod Touch and iPhone have basically the same interface and appearance. Aside from the fact that these devices were created by Apple Inc., the two shares the same operating system. The two are touch screen device and are capable of capturing photos and videos. These two may come in different memory sizes. Users may choose 8GB, 16GB or 32GB iPod touch or iPhone.
IPod touch and iPhone are also capable of handling and detecting Wi-Fi networks, which make it more awesome because we can get connected to the internet as long as we are on a Wi-Fi hotspot. However, despite its awesomeness, users may still get errors in accessing Wi-Fi networks. Let us talk about how to fix Wi-Fi on iPhone or iPod touch.
Fixing errors concerning the Wi-Fi connectivity in your iPod touch or iPhone will be difficult if you don't have the idea on causes behind it. Here are the possible reasons on why you get Wi-Fi-related errors, particularly if you are unable to turn on your Wi-Fi.
The main reason why you were unable to access or turn on your Wi-Fi is because your Media Access Control (MAC) address is missing or it has displayed zeros on the box.
Here is what you need to follow so that you will know how to fix Wi-Fi on iPhone or iPod touch. First, go to Settings and then head to the General tab. Go to Reset, you can find it at the bottom of the screen. Once you find the Reset tab, you can find a lot of options to reset some settings on your iPhone/iPod touch. Since we are concerned about Wi-Fi here, you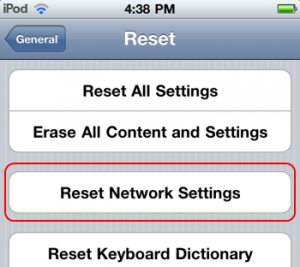 need to tap the Reset Network Settings button. Resetting your networking settings into the original factory settings may revive your MAC address. Don't be surprised if your iPhone or iPod touch will reboot after you confirm the reset of your networking settings. You should take into consideration that resetting to the default and factory settings may delete some of the settings  in your iPhone/iPod touch.

To check whether your problem is solved, connect to the available Wi-Fi hotspot. Tap on the Safari web browser and then enter the web address you like. Check if it loads or not.

If in case that does not solve your problem, read the following hints below.

Always assure that your iPhone/iPod Touch is not in the Airplane Mode.

You need also to assure that your iPhone/iPod Touch has the latest iOS version.

Read this: How to share wi-fi on iphone

You can also restore your iPhone or iPod touch using iTunes to address the Wi-Fi connectivity issue. In restoring the iPhone or iPod touch, you need to have a working universal serial bus (USB) data connector and the latest version of iTunes installed in your PC. You need to be aware that restoring your iPhone or iPod touch will erase all your data. Make backups or duplicates of your important files first before making the restoration process.

I hope this post has given you ideas on how to fix Wi-Fi on iPhone or iPod touch. Thank you for reading.

About the Author: