How to Fix Ipod Touch Headphone Jack Problem
The world without sounds is not good to live at all. Can you imagine a world wherein people don't know how to talk? Dull, isn't it?
Like in the real world, any portable media player without sound is boring. Imagine yourself watching a movie on your iPod touch without sound effects? Can you really feel the thrill of the movie? I don't think so.
One of the most important parts of an iPod touch is the headphone jack. Headphone jack is the outlet wherein we insert our headphones at. Having a headphone jack is quite advantageous because you can listen to the music better.
Your iPod Touch can still blast your music and movies using the built-in speaker. However, it is really impractical to use the capacity of the built-in speakers if you are listening to music during your trips. When you are on the road, plugging your headphone on the iPod touch jack is really great thing to do.
What if the headphone jack becomes defective? Don't worry because I will teach you strategies on how to fix iPod Touch headphone jack problem.
There are a couple of things I need you to do before replacing the headphone jack.
Please use another 3.5mm headphone and try inserting it at the ipod touch jack. It is not necessarily to buy new one as this one is just a testing. You can borrow from a friend or a family member.
If inserting another working headphone on your ipod touch's jack doesn't solve the problem, try the next solution.
Using your own headphone, adjust its fit like you have to wiggle it to the right and to the left. Listen if there will be any sound produced.
Make it sure that the volume is not muted.
Be sure that there are no residues that clog the headphone jack. For instance there is something that clog the jack, you need a Q tip and clean it.
Speaker splitter
Speaker splitter can be another option in mending your defective headphone jack. This only applicable for those headphone jacks that plays one side only. That is to say, the left speaker is producing sound while the right is not, vice versa.
Purchase a speaker splitter. You can visit nearby electric supply shops. If you don't want to feel the heat of the sun, purchase it online at eBay, Amazon, or any other online retailers you know. Don't worry, speaker splitters are very much affordable. It usually depends upon the brand. Amazon currently supplies the Belkin F8V234-WHT Speaker and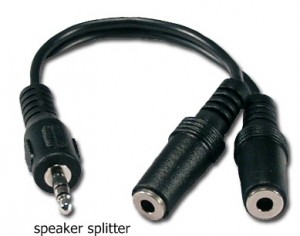 Headphone Splitter for $3.48. You need to make it sure that the size of the headphone is 3.55 mm to suit the jack of your iPod touch. Did you get it?
Install a New Headphone Jack
If the above options don't solve your problem, I guess it's time to replace your headphone jack. Installing headphone jacks wihtout ample technical knowledge is not recommended. If you dare take it without the proper experience, your precious iPod touch might get further destructions.
Visit Apple Inc.'s service center and ask the staff on how they can address your problem.