Every Mac user knows, that keeping all data in sync can be a real headache, especially when you have more than one computer, a couple of mobile devices and several portable data storages or online accounts.
SyncMate by Eltima Software meets all of your sync needs and offers you a reliable way to sync data between your Mac and multiple devices you may have.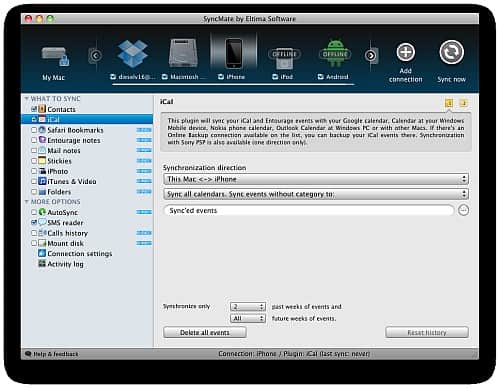 SyncMate will easily sync data in your Mac with Windows Mobile, Android, Nokia S40 phones, other Mac or Windows computers, iPhones, iPods (Touch and Nano), iPads, Google or Dropbox accounts, any mounted storage devices and even your Sony PSP!
With SyncMate you can back up data to Online Storage Account (possible to encrypt and protect this data with password).
SyncMate is offered in two Editions: Free and Expert.
Free Edition allows syncing most vital data between your Mac and supported devices – your Contacts and Calendars.
Expert Edition offers you additional options and allows syncing images, videos, music, Mail, separate folders, Notes, To Dos, Time, Bookmarks and lots more! SyncMate also offers you possibility to manage SMS directly on your Mac. (Note, sync options may differ for each device).
So, as you can see, SyncMate can replace several sync apps you may have installed on your Mac as it provides numerous sync options and allows syncing your Mac with multiple devices within one app!
Detailed information about SyncMate can be found at http://mac.eltima.com/sync-mac.html