Sure, the apps on the iPhone and the iPod Touch are great fun, but can they save you money and make sure that your kids get a healthy and tasty meal into them? The Kids Eat For app does all of that and so much more! You always see those signs outside of restaurants that say, "Kids eat free on Tuesdays!" or Thursdays, or Sundays, or whatever the case may be. But how in the world can you be expected to remember which restaurant is offering a free meal for your child on what day? Get the app!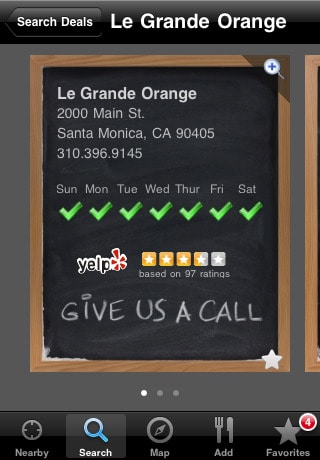 The Kids Eat For iPhone app will let you simply enter in your location and it will pull up a listing for you of restaurants in the area that are offering meals to kids for free, or at the very least, for a discount. And not only can you find all the different restaurants where your kids will help you save, but many of the restaurants also offer their kids menu right on the app so you can peruse through the results and see which menu has items you'd like your children to be eating? Hey, we told you that it would help your kids eat healthy meals, didn't we?
But the Kids Eat For iPhone app comes with so much more than even that! You can not only get detailed route information so that you know exactly where the restaurant is, but you can also check out whether past users have given it a "thumbs up" or "thumbs down" review. That makes this app the perfect travel companion too! No longer do you have to go inside a restaurant that you've never been to before and simply hope for the best. No you and your family can always make sure that you have a good meal in you wherever you go!
But the iPod touch app goes one step further. It's a totally interactive experience! You can also rate and review restaurants while of course, posting which restaurants in your area are offering free or discounted meals for kids. The app is not free, but it only costs $2.99 and with all the money you'll be saving by actually eating out, you'll definitely be able to afford it! You can find it at iTunes here.