With a well-earned reputation as one of the best budgeting apps on the iPod Touch, Pennies can easily end up as a crucial component of your personal financial management.  In fact, it's ease of use and intuitive displays can make a compelling argument for making it your primary budget tracking tool.
Pennies will lets you create a budget and track all your expenses via a simple interface that offers a variety of options that make the process incredibly easy.  Instead of a plethora of confusing numbers and charts, Pennies uses a simple gas gauge as its main display for your current spending status, along with vital statistics.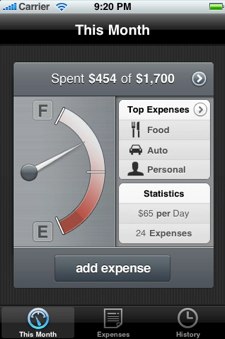 The gauge represents your month's budget with each expense depleting it.  Just like when driving, the more of the resources you use up, the lower the gauge drops, until it ends up at the red-tinted empty mark.  It's a great visual reminder of how well – or badly – you're able to maintain your planned spending.
As Simple Does
While Pennies does a great job for what it's intended for, it's still just a budget and expense tracker.  Despite being a good one, it's way too simple to take the place of much better budgeting tools available elsewhere.  If you don't mind not having access to features like bar-code recording and tax calculators, though, this will probably do.  For more sophisticated financial tracking, however, this will be an eye-candy of an app that doesn't really push it all in.