Top 100 Apps for iPod Touch, iPhone and iPad
Top 100 Apps for iPod Touch, iPhone and iPad. I just went to itunes apps store to find what are the best and top free apps right now for my iPod Touch, and I found a great list of them. I see they list top 50 game apps for ipod touch iphone and also iPad, there which ready to fill up my iTouch. Here are the list of them:
Top 100 free iTouch Apps List (Latest listing)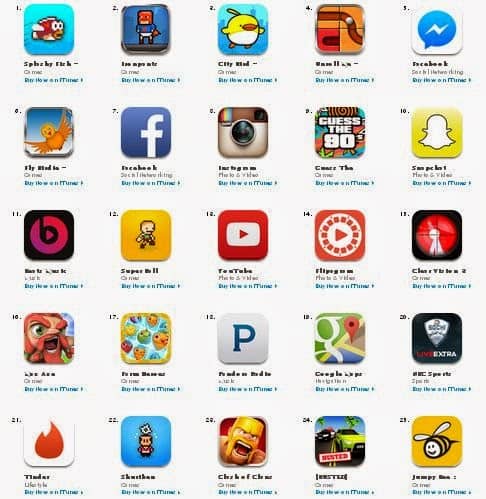 1.Splashy Fish – The Adventure of a Flappy Tiny Bird Fish
Games

2.Ironpants
Games

3.City Bird – Flappy Flyer
Games

4.Unroll Me – unblock the slots
Games

5.Facebook Messenger
Social Networking

6.Fly Birdie – Flappy Bird Flyer
Games

7.Facebook
Social Networking

8.Instagram
Photo & Video

9.Guess The 90's!
Games

10.Snapchat
Photo & Video

11.Beats Music
Music

12.Super Ball Juggling
Games

13.YouTube
Photo & Video

14.Flipagram
Photo & Video

15.Clear Vision 3
Games

16.Max Axe
Games

17.Farm Heroes Saga
Games

18.Pandora Radio
Music

19.Google Maps
Navigation

20.NBC Sports Live Extra
Sports

21.Tinder
Lifestyle

22.Shuriken Block
Games

23.Clash of Clans
Games

24.BUSTED
Games

25.Jumpy Bee : The real Challenge
Games

26.NBC Olympics Highlights and Results
Sports

27.Candy Crush Saga
Games

28.Flappy Super Hero – Mega Man with Air Wings
Games

29.Twitter
Social Networking

30.Frozen Free Fall
Games

31.Google Search
Reference

32.Pinterest
Social Networking

33.Kik Messenger
Social Networking

34.Spotify Music
Music

35.Dumb Ways to Die
Games

36.QuizUp™
Games

37.Rookie – Photo Editor
Photo & Video

38.Emoji
Entertainment

39.iTube Free
Entertainment

40.The Weather Channel®
Weather

41.WhatsApp Messenger
Social Networking

42.Netflix
Entertainment

43.Skype for iPhone
Social Networking

44.InstaCollage Pro – Pic Frame & Photo Collage & Caption Editor for Instagram FREE
Entertainment

45.Gmail – email from Google
Productivity

46.Hot or Not!
Social Networking

47.Vine
Social Networking

48.SoundCloud – Music & Audio Discovery
Music

49.Sonic Dash
Games

50.MomentCam
Photo & Video

51.eBay
Lifestyle

52.Emoticon & Emoji Keyboard & Photo Graffiti – Chatting on Whatsapp,Twitter,Zoosk Etc.
Productivity

53.Deer Hunter 2014
Games

54.8 Ball Pool™
Games

55.Flick Champions Winter Sports
Games

56.PolyFauna
Music

57.HonorBound
Games

58.Pic Collage
Photo & Video

59.Groupon
Lifestyle

60.Find My iPhone
Utilities

61.Emoji Keyboard 2 – Animated Emojis Icons & New Emoticons Art App Free
Social Networking

62.Despicable Me: Minion Rush
Games

63.Close Up Pics
Games

64.Hidden Objects: Mystery Crimes Valentine's
Games

65.AutoRap by Smule
Music

66.Amazon App
Lifestyle

67.Viber
Social Networking

68.IRS2Go
Finance

69.QR Reader for iPhone
Utilities

70.Subway Surfers
Games

71.Free Music Download – Mp3 Downloader
Music

72.Pic Stitch
Photo & Video

73.Empire Fleet™
Games

74.Slam Dunk Basketball 2
Games

75.Can You Steal It
Games

76.Lumosity Mobile
Education

77.Shazam
Music

78.Red Bouncing Ball Spikes!
Games

79.myVEGAS Slots – Free Las Vegas Casino Games
Games

80.Free Music Download – Downloader and Player
Music

81.Uber
Travel

82.Emoji Free Emoticon Keyboard Art
Lifestyle

83.OpenTable
Food & Drink

84.iHeartRadio – Free Music & Internet Radio Stations
Music

85.Paper – stories from Facebook
Social Networking

86.Can You Escape
Games

87.Tango Text, Voice & Video
Social Networking

88.Calorie Counter & Diet Tracker by MyFitnessPal
Health & Fitness

89.Hay Day
Games

90.American Idol
Entertainment

91.Chrome – web browser by Google
Utilities

92.Waze Social GPS, Maps & Traffic
Navigation

93.InstaSize – Post Entire Photos On Instagram Without Cropping
Photo & Video

94.Flappy Pig – Endless touch to fly like a bird!
Games

95.Flow Free
Games

96.Temple Run 2
Games

97.BuzzFeed
News

98.Evil Apples: A Filthy 4dult Card & Party Game
Games

99.Tom's Love Letters
Entertainment

100.MP3 Music Downloader Free
Music
You could get those top game apps for ipod touch here.

Please see on those list of top 100 ipod touch apps, you will found that about 40 of the best free apps for iphone, ipad and iPod Touch above are in Games category. So if you're an apps developer and want to sell iPod Touch Apps, consider to develop games app which not yet developed for iPod touch/iPhone, then I believe that your app will get the more chance to become popular and could be listed on those 100 Top Free Apps.
Post Tags: İpod touch 4 games best