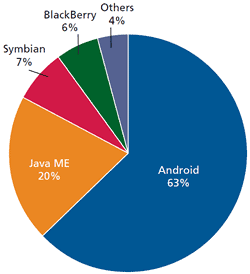 Last week appeared on internet various reports suggesting that malware on the Android platform have increased by almost 500% in the last few months of 2011. Perhaps there is a problem on Google's platform and the security company McAfee suggests that in a new report published recently. For iOS McAfee has words of praise saying that the system from Apple is among the safest and the chart above shows how the operating systems affected by malware.
Surely no iOS was not protected from malware and ransomware but cases of infection among devices without jailbreak is much smaller than in the cases appeared for Android OS. For the problem of Android those from McAfee give some possible explanations. The first has to do with the fact that the system is open source and that anyone can work with him and can publish applications anywhere on the Internet and those applications can be very easily infected. Android Market not is always safe for users and Google has shown this thing.
A second problem lies in the fact that manufacturers of mobile devices change Android before implementing it in smartphones and often security measures implemented by Google become ineffective after these changes. Finally the third problem lies in the fact that manufacturers of smartphones launches very hard their latest updates for their own devices and bug fixes about the security issues that reach very hard to users.
The things at Apple are much simpler because everyone receives the update at the same time, everyone has the same things and the App Store is apparently carefully checked by engineers. It is true that in App Store there is not a malware but there are many applications that trick users and offers everything so things are presented in the description as bad but viewed from an entirely different angle.