How to Turn Off Sound on Apple Watch – When you activate the "Turn Off Sound" mode on your Apple Watch, you're turning off all notifications from your iPhone, as well as sounds coming from the watch itself.  This is a great way to save battery life, and can be especially helpful if you're trying to sleep and don't want to be disturbed by notifications or sounds from your watch.
Apple Watch has a built-in speaker that can be used for making calls, listening to music, and other tasks. However, some people find that they want to put apple watch on silent so that it doesn't interrupt their workflow. There are a few reasons why someone might want to do this. For example, if you're working out and don't want to be disturbed by the sound of music or phone calls, you can silencing apple watch.
A mute apple watch may be an excellent solution for those who are not interested in talking on the phone or using Siri. Apple Watch is a great device, but it can be noisy at times. Some people find the watch's sound to be too loud or intrusive. Put apple watch on silent mode can help to reduce its noise level, making it more comfortable to wear. Silent apple watch also look more professional and sleek. If you frequently find yourself struggling to hear the watch's notifications, mute it!
Read: How Does Apple Watch Calculate Calories Burned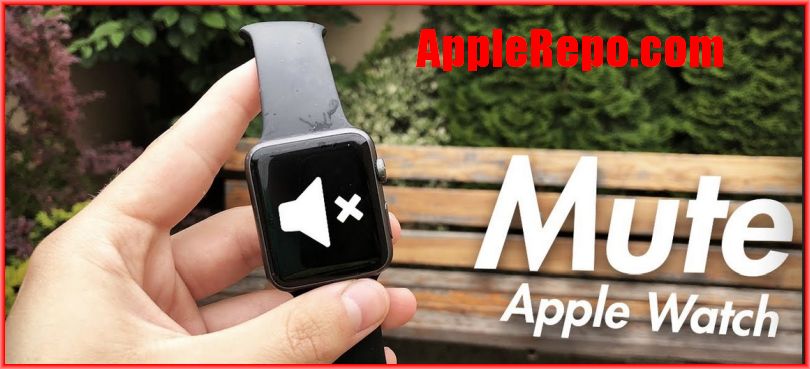 How to Turn Sounds Off on Apple Watch
If you want to turn off sounds on your Apple Watch, there are a few easy steps.
First, Please open your Watch app on iPhone
Then open My Watch at the bottom left of the app
Next, scroll down to Sounds & Haptics
Tap on the toggle switch next to Cover to Mute at the bottom of the display.
Finally, To mute your Apple Watch, cover it with your hand for three seconds.
Read: The difference between Apple Watch Series 1 and Series 2
How to Mute Apple Watch (Silent Mode)
Muting your Apple Watch can be helpful if you need to focus on a conversation or if you are in a quiet setting. Please follow these simple steps to put your apple watch on silent mode:
Swipe up from the bottom of the screen
Scroll until you see the Silent Mode button. The button is like this one:
Tap the button to turn on silent mode. Until the button become this: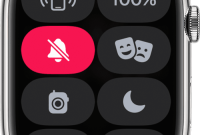 The digital crown and side button will now be inactive. If you want to turn off silent mode, tap the Silent Mode button again. To see the time during silent mode, tap the watch face on.
How to turn on Do Not Disturb on your Apple Watch
Do you ever find yourself checking your watch more than you'd like to, but still needing to hear the time? Well, Silent Mode is for you! This mode silences all sounds on your watch, including alarms and heart rate notifications. If you're in a meeting or trying to sleep, this mode can come in handy. Do Not Disturb mode is different.
Do not disturb mode silences all alerts except alarms and heart rate readings, which can be very helpful when you need to remain focused.
Do not disturb on your Apple Watch can be a lifesaver when you need to focus on a task, but want to avoid notifications from your phone. Here are instructions on how to turn on Do Not Disturb on your watch.
Touch and hold the bottom of the apple watch display.
Wait for Control Center to show, then
Swipe up on the watch face until the Apple Watch screen shows up.
Scroll down and tap Do Not Disturb Button. Like this one below:
Choose 4 Options: On, On for 1 Hour, On Until This Evening or You can also set the time to On until I leave, where it will turn off automatically when you leave your home or office.
To turn Do Not Disturb on or off You can also use Siri on your watch to turn Do Not Disturb on or off. Say "Hey Siri, turn Do Not Disturb on" or "Hey Siri, turn Do Not Disturb off." Note: If you do not have Siri enabled on your watch, you will need to have the phone nearby in order for this command to work.

In conclusion, there are a few ways to turn off the sound on your Apple Watch. You can use the silent mode, which turns off all sound and vibrations, or you can use the do not disturb mode, which allows you to customize the settings. Whichever method you choose, hopefully this article has helped you to understand how to use them.

About the Author: