Healthy U iPhone App Review. In health, physical fitness has a vital role alongside good nutrition. Physical fitness is composed of two very important aspects—specific fitness and general fitness. Specific fitness is an individualized state of health that is based on your activity or occupation. General fitness is the holistic health status.
Years back, overall fitness has been known as the ability to perform activities of daily living in the optimal physical condition. But with the advancement of innovative technology, lifestyle changes occurred drastically. This resulted to a realization that this definition of physical fitness is no longer appropriate.
Nowadays, physical fitness is already considered as the gauge of your body's capability to go about with every form of activity, to go against pathogenic organisms, to quickly react during emergencies, and be in the pink of health.
This Fitness and Health iphone Application of ours consists of tips, equipment, terms, and exercises for exercise enthusiasts, personal trainers, and even for those who are just starting to form an interest in fitness programs. This contains valuable tips in starting a personal fitness program and in measuring your workout results. This application also gives important advice to do everything the right way and the safe way.
Health and Fitness Application for iphone, ipod touch and ipad is an accurate guide in providing advice, ideas, language, and a positive attitude for you to really maximize your overall workout and solve any obstacle that you might just face. Our designers came up with this application to help you improve your health status on a daily basis.
This Healthy U iphone app has a user-friendly interface so that you could quickly access information about what you need to know about without all those frustrations, limitations, and confusion that other applications seem to induce.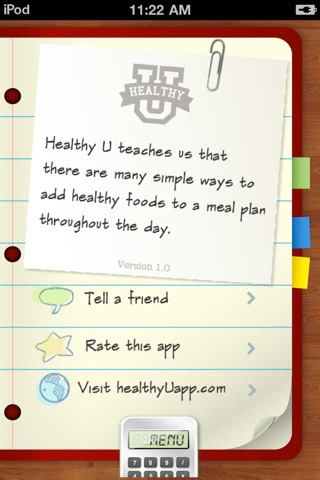 The features included in this Healthy U application are equipment examples and directions in using them, a glossary for fitness terms, an efficient search engine, an easy-to-use interface, direct e-mail access for feedbacks from the application itself.

If you have any terms that we have overlooked at any given point, we would really like to hear about them so that we could add them into the application. You could directly e-mail us concerning this and we would be more than delighted to post it in our latest update.
We believe that our clients are there to help us continuously move a level higher in our applications. This would definitely make every experience with us very unforgettable.

Get Healthy U iPod Touch apps here.

About the Author: