The TLC App for the iPhone and iPod Touch
TLC has tons of great shows that millions of people tune into every day. With shows like Take Home Chef, Cake Boss, and 19 Kids and Counting, this television network certainly has something to offer absolutely everyone. And now, some ingenious developers have come up with a way so that you can take all of these wonderful shows, and some of your very favorite people, with you wherever you go! It's all here with the TLC app for the iPod Touch. And of course, it's available for the iPhone too!
With the TLC app for the iPhone or iPod Touch, you can catch up on all of your favorite shows. Find out what happened on last week's episode, or what's coming up on this week's, and there are always tons of images and galleries to go along with them so you can always keep tabs on your most beloved characters. And in addition to looking at galleries, you can also watch video clips of episodes and behind the scenes footage too!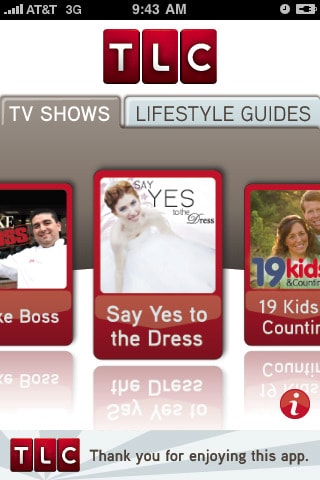 There's a daily blog that's updated through the TLC blog so you can always catch up on all the latest news in regards to your show too, including when special "meet the cast" web meetings are arranged. And not only does the blog keep you in touch, but it gives you even more insider tips about the things you love to watch. So whether it's parenting and lifestyle shows you're into, home and garden shows, or decorating, the TLC app for the iPhone is now your one-stop-shop for all the tricks and tips you need!
And of course, like all good iPhone and iPod Touch apps, this one allows you to share it all with your friends over Facebook and Twitter. Oh, and it's all absolutely free! You can download it here.