HOW TO SETUP GOOGLE CALENDAR ON YOUR IPHONE 4
Using Google Calendar for my Iphone is not a joke and not easy. Once you have been activated this, the calendar on Gmail account will got a timetable for the iPhone. People will suggest that you will going to set up a Gmail account for the solution of Exchange.
These are the steps to have all Google calendars appear on your iPhone:
First- you will going to open Safari on your iPhone and go to the Sync Settings on Google Calendar. You should find or see the entire calendar listed which includes your shared calendars. Some calendars were not available for syncing but you only have to check the only one you want to have or appear on your iPhone.  All you need to do is Scroll Down and Tap the Save button to save it of course.
Second- you should go and open the settings application on your iPhone. Tap on the MAIL, CONTACTS AND CALENDARS which you can actually see it in the settings. You should now be able to see all the email accounts you have set up. And if you still do not have Gmail Account set up- all you have to do is to tap on ADD ACCOUNT and select Gmail and follow all the steps and directions posted.
Third- Access your calendar application for iPhone.  All you have to do is tap the Calendars in the upper left corner. You should see all your Google calendars, including shared calendars listed under Gmail. Press all the calendars that you want included in your agenda. A check mark appears to the right of each one you choose. You can change what you want anytime. When finished, press the Done button at the top of the screen.
this might take a few minutes the phone to download all the calendar entries on Google servers. However, if all goes well, all meetings should be reflected in the calendar with the same colors you use Google Calendar. Here is a screenshot of my Google calendar on my iPhone 4.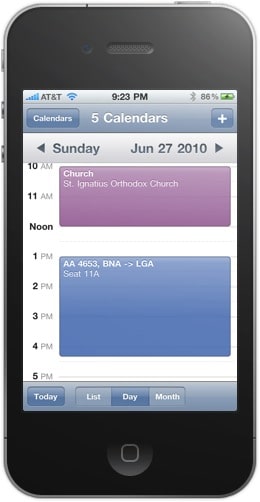 About the Author: