Lady's Days iPhone App from iTunes Review
Lady's Days is the easiest way to track your period because it works as a personal assistant for busy women in everyday life helping you keep track of your menstruation cycle, fertility and ovulation day!
This easy to use app comes with a cute and simple visual calendar where you can enter the first day of your period and it does the rest for you.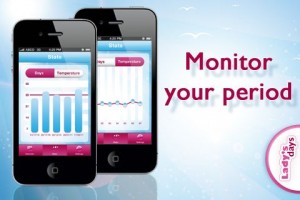 All what you have to do is to set the First Day on the calendar by selecting date and press "+" button on the right top corner. Menstrual days are marked on the calendar by a red color
To predict your ovulation period there are two methods: the calendar and the basal body temperature. This way you can be sure when is the perfect day to try to conceive or to avoid pregnancy. A temperature graph will help you monitor your temperature and the consistency of your cycle.
Lady's Days send you push notifications to remind you about your next period, you can customize the app in the settings page writing for example the length of your cycle. You can add notes every day on the calendar and don't forget to protect your privacy with a pass code.
And now with a brand new image and style that gives it a fresh feeling, Lady's Days is the perfect agenda to carry around in your iPhone.