How To Backup Your iPod Touch Apps
Backing up is one of the most important functions you usually learn the hard way. Often appreciated in hindsight, a backup should keep you protected from the endless number of things that can go wrong on electronic devices.
While we seldom do mission-critical work on our iPod Touch devices, it should still prove a good idea to regularly do backups of your different apps. Who wants to lose all their bookmarks, caches, settings and all sorts of data, after all?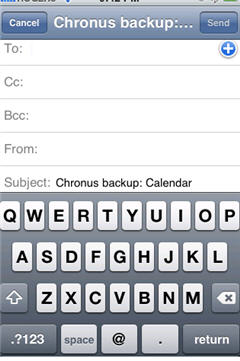 If you own a jailbroken iPod Touch, you can use a third-party app called Chronus to perform backup duties as well as restore them from your archives when those undesirable situations occur. While it won't be able to back up every app you load on your gadget, it should provide the facility for some of the most useful ones. Currently, Chronus can perform backup and restore duties for apps like:
Calendar
Email
Maps
Notes
Safari
WebClips
Youtube
CameraRoll
Weather
WorldClock
Stocks
many others that are available from the Apple Store
Chronus offers an easy-to-understand interface for facilitating one of the most useful functions you can find for your iPod Touch. Simply choose an application from the list and click on the Backup command to begin creating an instance of its state that you can restore from. You can keep the backups right on the device or launch an email with it as an attachment. Either way, you'll have stored archives from which you can reinstate apps when you encounter problems with them.
If you decide to pay for a registered copy of Chronus (as opposed to the functional demo), you get the added options of making multiple backups for each app as well as a Backup All feature, which archives all your apps in one easy tap.