Galatta Cinema: An iPhone App That Delivers Magazine to Your iPhone
Galatta Cinema an innovative iphone app by DCI mobile studios, succeeds in its effort to entertain South Indian cinema fans worldwide. Now you can read reviews, previews, articles, news stories etc., in your iPhone. This Galatta Cinema iphone app is the fine combination of creativity and technology.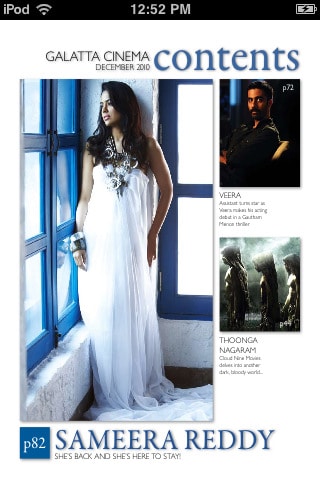 There are not many iphone apps available on the App Store about Indian cinema. Few months back, Dot Com Infoway, a leading mobile phone application developer from India, broke a new path by developing Galatta Cinema, an exclusive iPhone app about South Indian movies.
Recently I installed this Galatta Cinema app to my iPhone. It is a must have application, if you are a real fan of South Indian cinema. This app brings the latest edition of Galatta Cinema, largest circulating English cinema magazine in India for South Indian movies right into the hands of the users.
From cover to cover, users can read all the 100+ colorful pages of the magazine and they can get closer to their favorite stars by zooming images. Navigation is simple by just moving your finger from right to left. Tapping the screen users get a navigation bar. The square button in the navigation bar brings a thumbnail view of pages at the bottom of the screen. This enables them to browse through the pages without wasting much time and find the story, which they want to read first. The pages load fast, so it is easy to zoom.
This user friendly app covers the gap between mobile phone and print media. By using the latest cutting edge technology, Galatta cinema makes it possible for users to read their favorite cinema magazine from anywhere in the planet. More over it doesn't occupy much memory and it is easy to load. It is no exaggeration to say that artistic imagination meets iPhone app development through Galatta Cinema.
Without doubt Galatta Cinema iPhone app ensures the rich reading experience and it is available free of cost at App Store. But this offer is for a limited period. So rush to the App Store and get Galatta Cinema on your iPhone, iPod Touch and iPad.